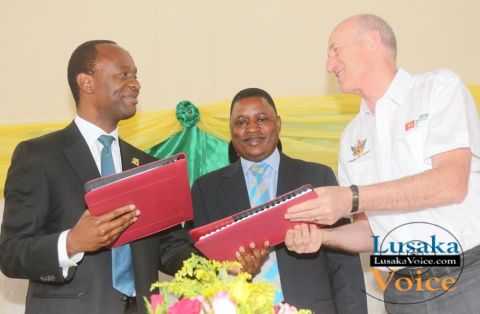 Lusaka Mayor Mulenga Sata says he is not in a rush to vie for the position of republican President.
Mr. Sata says he is currently content with the three positions he has of being Patriotic Front Lusaka District Chairperson, Lusaka Mayor and President of the Local Government Association of Zambia LGAZ.
Speaking to Journalists this morning shortly after his family by visited his late father President Michael Sata's tombstone in the company of acting President Guy Scott and his wife Charlotte, Mr. Sata said his three positions are already demanding.
Mr. Sata says he is making steady progress in his political career but that his focus now remains on achieving the betterment of the livelihood of the people of Lusaka.
He could not however indicate clearly whether or not he is interested to become the ruling party's Presidential candidate for the forthcoming Presidential by-election.
Mr. Sata says he is still consulting and therefore is no fixed position whether he would vie for it or not.
He says will do what is the best interest of all stakeholders as he still reserves the right to vie for the position.
The son of the late President Sata has however called for unity and peace as his party selects its Presidential by-election.
He has observed that if the wrangles that have surrounding his party's leadership succession continue it is likely to affect the ruling party's performance in the forth coming by-election.
QFM NEWS