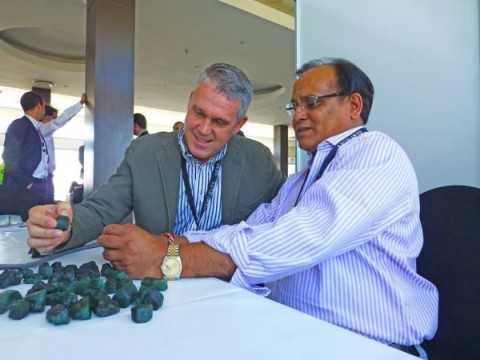 GOVERNMENT desires to establish an efficient and transparent trading system for gemstones following continued successful auctions of emeralds in Zambia.
Mines, Energy and Water Development Minister Christopher Yaluma said Zambia had continued to register successful auctions of the precious stone, which once effectively traded could generate great benefit for the people.

Mr Yaluma was speaking in Lusaka yesterday when he officially opened the auction of high grade rough emeralds by Kagem mining limited.
"The Government's desire is to have an efficient and transparent trading system for gemstones established in Zambia as soon as possible and I believe that Kagem will continue to work with Government to ensure that the system is established," he said.
The continued successful auctions of emeralds in Zambia following a Presidential directive in April 2013, demonstrated that the country was becoming a renowned emerald producer as well as a trading centre.
"This is commendable and I wish to encourage Kagem to continue providing leadership in establishing a trading system for gemstones that will be of benefit not only to you but to the people of Zambia as well," he said.

He said Zambia produced other coloured gemstones which Government wanted buyers to have access to as well so that auctions were not only for one brand of emeralds.
He said Government also planned to have a vibrant gemstone sector and would not introduce any measures that would be detrimental to the sector's growth.
He pledged Government's commitment to supporting the growth of not only Kagem but the entire mining sector.
"As Government, we are committed to maintaining a conducive business environment for the continued growth of the mining sector and we wish to see growth in the expansion of the sub sectors such as gemstone," he said.
Times of  Zambia