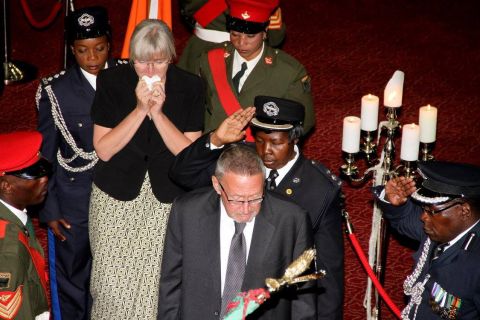 Zambian Voice Executive Director Chilufya Tayali has charged that no amount of life threatening pressure will stop his organization from petitioning acting President Guy Scott's legitimacy to act as President.
This says this regardless of the strange phone calls he has allegedly been receiving from unknown people threatening to burn his house and abduct his children if he does not stop his court action.
In an interview with Qfm News Mr. Tayali has however stated that people that making such threats on his family are only wasting their time because he understands that life belongs to God and therefore he cannot be threaten by anyone over his organization's decision to petition Dr Scott's legitimacy to act as President.
Mr. Tayali has also disclosed that besides such life threatening pressure, he has on the other hand been receiving pressure from other people asking him to go ahead with the filing of the petition.
He has however notes that the move by his organization to take the matter to court is neither personal nor political.
Mr. Tayali states that with the evidence his organization has so far, it has seen necessary to take the matter to court based on the Zambian constitution and with the view of preserving the country's democracy and posterity.
He notes that in its petition which will be filed in the High Court, the Zambian Voice is rely on the fact that President Sata did not at any time in the 3 years he has served as President appoint Dr. Scott to act as republican President.
Mr Tayali further states that the other ground the Zambian Voice will rely on in its petition will be Article 39 (1) under which Mr. Edgar Lungu was left the instruments of power to act as republican President while President Sata was abroad for a medical checkup.