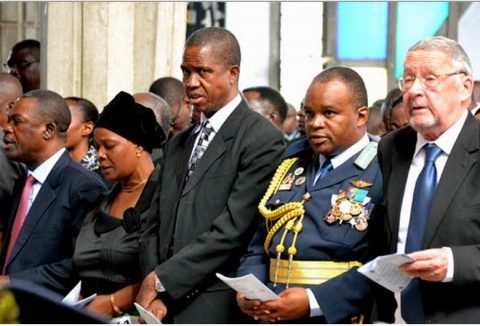 Acting President Guy Scott has bowed to pressure and reinstated Edgar Lungu as PF Secretary General.
The decision by Dr Scott to remove Mr Lungu as PF Chief Executive Officer was received with widespread condemnation in ruling Patriotic Front and among Zambians especially that the country is mourning President Michael Sata.
The decision by the Acting President to reinstate Mr Lungu follows a closed door meeting he held at his farm with some aggrieved senior PF officials led by national Youth Chairman Chishimba Kambwili who included Mr Lungu.
Dr Scott has also disclosed that after the burial of President Sata the central Committee of the PF will be convened to elect a presidential candidate.
He says any member of the central committee who intends to stand for election as party president and presidential candidate, including the Secretary General or holder of any other position that may present a conflict of interest will be required to step down.
Those who attended the meeting at Dr Scott's farm include PF national Youth Chairman Chishimba Kambwili, National Chairperson Inonge Wina,Deputy Secretary General Bridget Atanga, Chairman for transport Willie Nsanda,Chairman for security Colonel Gerry Chanda,Chairperson for Community Development Jean Kapata and Chairman for Commerce Miles Sampa.
Others are Lands chairperson Mumbi Phiri,PF Chairman for Finance Emmanuel Chenda,PF Lusaka District Chairman Mulenga Sata and former defence Minister Geoffrey Mwamba.
QFM News Zambia