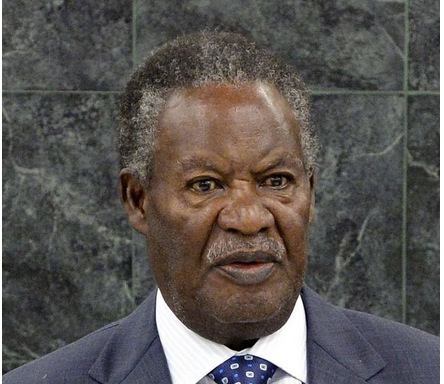 JOHANNESBURG—Zambia's populist President Michael Sata has died in a London hospital, the country's finance minister said on Wednesday, raising questions about who will take charge of the copper-rich southern African country.
Zambia's Finance Minister Alexander Chikwanda said Mr. Sata died Tuesday evening at a hospital in London where he had been receiving treatment for ailments his office hadn't fully described. The 77-year old president, who was elected in 2011, didn't appear in public for months this year, fueling suspicions he was gravely ill.
Mr. Chikwanda, who was huddling Wednesday morning with other cabinet ministers in Zambia's capital, wouldn't say whether Mr. Sata will be succeeded by his Vice President Guy Scott. A person who answered Mr. Scott's mobile phone declined to make him available.
Mr. Sata's declining health has sparked a succession battle within the ruling Patriotic Front party, threatening to unsettle one of Africa's most stable nations.
In July Mr. Sata made a visit to Israel which government officials later said may have included some medical treatment. He appeared briefly in public last month but missed his scheduled speech at the United Nations General Assembly in New York.
Mr. Sata suffered a heart attack in 2008 but recovered following treatment in South Africa.
Mining companies including Glencore PLC, Vedanta Resources PLC, First Quantum Minerals and China Nonferrous Metals Co have invested billions of dollars in the Zambian mining industry in recent years, helping to turn around the once ailing sector.
Write to Patrick McGroarty at [email protected] and Nicholas Bariyo at[email protected]
Zambian Government Says President Michael Sata Has Died After an Illness

Zambian government says President Michael Sata has died after an illness.
MORE DETAILS COMING….