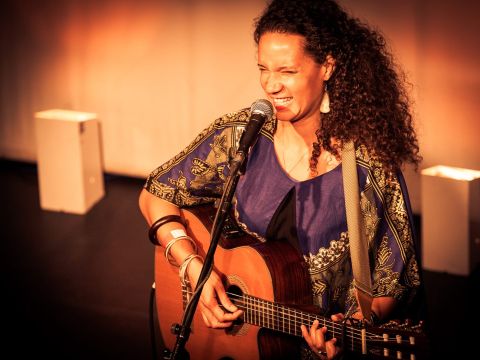 Namvula Rennie is a singer-songwriter whose attractively cool, unusual songs reflect her interesting history. Born in Zambia to a Zambian mother and Scottish father, she has lived in Switzerland, Kenya, the US and now London, developing a hybrid style with lyrics that mix Zambian languages with English, Portuguese and French, and musical influences that range from African styles to jazz. She plays acoustic guitar, but works with an impressive backing band that includes African musicians and members of London-based jazz outfit Led Bib.
This can't have been an easy show for her. Her debut album Shiwezwa is not released until next month, and she was previewing the songs without the help of all her usual musicians. There was no kora player and the Ghanaian guitar hero Alfred Bannerman (of Osibisa fame) was unavailable. But none of this seemed to bother her, and she eased through a set that switched from breathy balladry to stomping jazz-rock.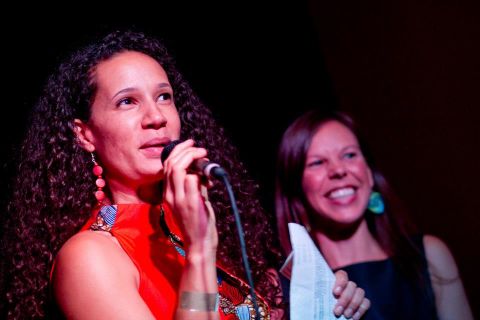 She started quietly, with light, breezy songs influenced by her visits back to Zambia, where she was helped by her aunt Maureen Lilanda, a respected local musician. But the Zambian influences were soon given a cosmopolitan makeover. Maweo, a relaxed and soulful lament sung in Lenje, developed into an upbeat piece dominated by a guitar solo, while Andorinha was treated with the energy of a South African township jive. Her most surprising song, Nandayeya, was written by her aunt and deals with suffering and survival.
It started with Namvula singing solo, backed only by her acoustic guitar, showing off her easy, unforced vocal style on a gently soulful ballad that was suddenly transformed as the band crashed in with a jazz-funk workout, featuring saxophone solos from Chris Williams. She sounded even more adventurous playing live than she does on the album – always a crucial test. Namvula is one of the most original newcomers of the year.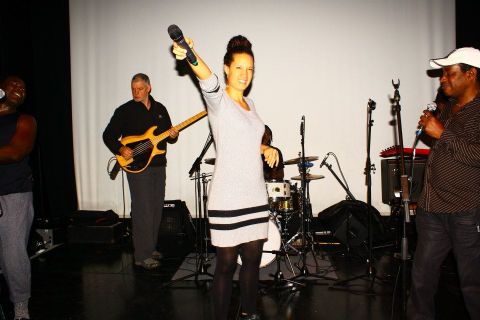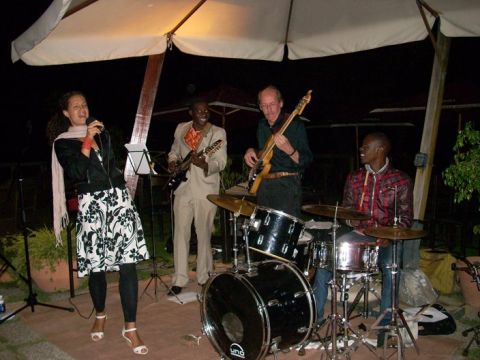 http://www.theguardian.com/music/2014/oct/21/namvula-review-african-hybrid-jazz
zaynnah conversation…with Namvula Rennie
"I photograph and sing because I am moved by life – by its beauty and ugliness, its creativity, its tenderness and cruelty, and the power of the stories that it holds, both those simple and complex. I am moved by the aesthetic strength of a beautiful image, the ability it has to stir emotion and to humanise the abstract."
Namvula Rennie
I'm really pleased to set out here for Zaynnah Magazine readers, my interview with Namvula Rennie, an incredible woman of many talents including being the Co-founding Director of Film Africa; Co-Director Film Africa 2011 and 2012. I'm also pleased to be able to include links to two of my favourite songs by Namvula – be sure to listen to Kumushi and Linda Morena below…Enjoy!
FRA  Namvula! What is the origin of your name – and what does it mean?
NR    My name is an Ila name (from Zambia); it means "mother of rain". I was named after my great-great-grandmother; she was a rain-maker and also led the community in prayers to the ancestors.
FRA  You've been described as being "Scottish-Zambian" – is that a fair description of your origins?
NR     It's probably the simplest! My mother is Zambian and my father is Scottish; and I was born in Zambia. That said, I've grown up in different countries (Switzerland, Kenya, USA, UK), and so I must carry elements of all of those places within me as well. A friend once said "I am from all the places I have been that have led me to the moment just before your question. And if you ask me again 10 minutes later, I will be from 10 minutes further than the last time you asked!"
FRA   So where is "Home" for you?
NR     That's not an easy question. The place closest to my heart is Zambia – it's been the one constant in my life, the place we always returned to wherever we lived while I was growing up. But recently, when I was feeling low about this very same question, the same friend told me something that perhaps is very wise…"Namvula, home is where your laptop is!"

FRA   Other words that have been used to describe you include: photographer, songwriter, songstress, musician, and of course, Film Africa Founding Co-Director! Before we get to the question of how you manage to do all of these…how successful was Film Africa 2012 in terms of the focus for this year?
NR   Film Africa, which is London's largest annual celebration of African film and culture, had an amazing programme; it also had an equally amazing turn-out this year! We focused on expanding the festival from 2011 with more films and more educational, arts, and family activities…and with 70 films; over 30 filmmakers; producers; and actors in attendance; and with professional workshops and educational screenings – nine nights of live music; a specially curated "alternative cinema"; family screenings and activities; and African markets, there really was something for everyone! We received great press coverage and wonderful feedback from both the filmmakers and audiences. And so we hope that the festival will continue to go from strength to strength over the years to come!
FRA   So with that, what does 2013 hold for Namvula Rennie?
NR     The big (and very exciting!) focus in the coming few months will be recording my debut album, co-produced by the wonderful and talented bass player Liran Donin. We will be releasing later in 2013, so watch this space! These past few months I've had the honour to work closely with some incredible and inspirational musicians (who are also great fun!), and they have helped take the project from strength to strength – bass player Liran Donin of the Mercury-nominated Led Bib; percussionist Mamadou Sarr (who is also percussionist for Baaba Maal); and African jazz guitarist Alfred "Kari" Bannerman (of Afro-rock group Osibisa, and whose credits include Hugh Masekela and Sona Jobarteh). So we hope that 2013 will see the group continue to rise. 
FRA   Where do you draw your song-writing inspiration from?
NR     From life – things I see and experience; stories or ideas that move me – things I read. My inspiration could be something as simple as waking up feeling joyful that it's a beautiful day, or something distressing like the plight of street children. I'm a very visual person (hence the love of photography and film). Often when I write I have a very strong visual in my mind, and I try to translate that imagery into words. There are so many people who have influenced me in the way I look at the world, or inspired me to re-evaluate the way I see things or how I try to express myself – photographers, writers, singers. But I do believe that some songs are given to me – they arrive almost complete, as though something – some energy beyond myself is trying to express itself…

FRA   What is your proudest moment in terms of your musical performance?
NR     Probably the first time I picked up a guitar and sang in public! I think I was about 17. Because that was the seed that is now flowering…and I know how scared I was. And more recently, sharing the stage this summer with the legendary trumpeter Hugh Masekela during the BT River of Music (part of the Cultural Olympiad).
FRA   And then there's your photography! How did you start out as a photographer?
NR     I didn't train as a photographer, but photography is an art-form that I have loved for a long time. After school, I was in India for a few months, and I took some great photos with the cheapest camera you could possibly buy (some throw-away from Boots!!). That encouraged me to buy my first "proper" camera, but for a few years I didn't pursue photography consistently. During my Masters Degree course, I did my research in Sierra Leone – that was in 2004. I was inspired by the people that I met there and the stories they told me, and I was also inspired to try to show a different side to the popular simplistic associations of Sierra Leone with war, child soldiers etc. I decided to go back there with my camera the following year to see what evolved – a leap of faith into the deep end! By some turn of fortune, I ended up becoming a photographer for Associated Press, and doing quite a bit of freelance photography – as well as spending a lot of time taking photographs of people and stories that I found moving and inspirational.
FRA   Is there a message that you seek to convey in the photographs that you take?
NR     I think that I try to show that every story and experience is complex and individual, but ultimately is human. What I try to show is that, for example, every orphan of AIDS will have an individual story, an individual experience – as much as she appears as part of a neat statistic, part of a crisis on a continent, Marie from Ngombe in Lusaka, Zambia, has her own joys and tragedies, challenges and triumphs, her own story. It may even turn out to be quite ordinary, even through the suffering – she will still play, and laugh, and cry, feel pain and sorrow and disappointment, experience happiness and love. Her experience may be more tragic than mine, but it is still human. Whether this is really possible to truly capture in a series of photographs – complexity and individuality coupled with the idea that we all have some sort of a common thread in our human experience on this planet, this I don't know…
FRA   Do you see yourself as a social advocate, perhaps?
NR    No, not really, but I think that it's important to have open eyes and an open heart. I write what I feel is true, and I photograph stories that I believe are important and that move me – but everything is just my individual perspective at the end of the day!

FRA   You quote Rumi on your website – the great Sufi Teacher believed in the use of the Arts (music, poetry, and dance) as a channel to the understanding of God…is that a belief that you share – the Arts as a path to deeper spiritual consciousness?
NR    I believe that in being creative you tap into a consciousness that is divine – your true being, and the power of life all around, seen and unseen. This to me equates to God – the life force. That particular Rumi quote was a great inspiration to me when I felt uncertain about where I was going in life, and it gave me courage to walk on the path I am now on. It is also a humbling reminder for us to lose our judgement – of both ourselves and others – and that there are many paths to the Divine. The quote is: "Let the beauty you love be what you do. There are hundreds of ways to kneel and kiss the ground."

FRA   And finally…how do you manage to do all that you do? What drives you to achieve?
NR    I often have no idea how I fit it all in myself! But having the belief that I am walking on the path I was meant to be on drives me, that I am being as true to myself as I can. And also my belief that life is short! We only have a limited time on this earth, so we should, as much as we are able to, endeavour to spend it on things that give us joy – that are fulfilling, challenging, enriching, and that allow our Selves to shine at their brightest.
FRA   Namvula Rennie…thank you!
To listen to the song "Kumushi" by Namvula, click HERE
To listen to the song "Linda Morena" by Namvula, click 
HERE