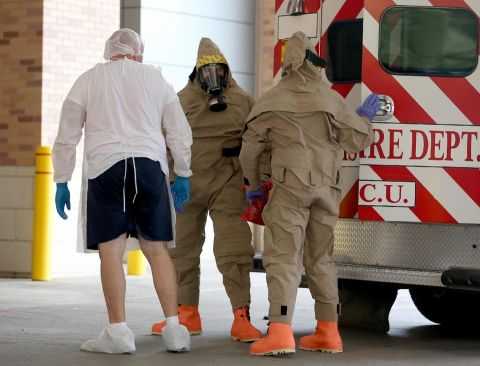 Last week, Jesuit High School canceled a visit by nine student leaders from Africa. The students were from countries that have no reported cases of Ebola, but Jesuit principal Paul Hogan said "the situation with Ebola is fluid and uncertain at the time."
The students were from the Republic of Congo, Niger and Ivory Coast. Ivory Coast shares a border with Liberia and Guinea, two of the three countries reporting widespread transmission of Ebola. The third is Sierra Leone.
Despite what George Will says, medical experts maintain that Ebola can only be spread through contact with bodily fluids.
Jesuit is hardly alone in canceling a visit or an event out of an abundance of caution concerning Ebola.
On Sunday, the University of Georgia canceled the Oct. 23 guest lecture of a Liberian journalist. Wade C.L. Williams was to speak about her experiences covering the Ebola crisis. Syracuse University in New York also recently rescinded a speaking offer to a Washington Post journalist.
Meanwhile, in England, parents last week threatened to pull their children from a primary school unless a visit by a teacher from Ghana was canceled. Ghana has not had a single case of Ebola and doesn't share a border with the three affected countries.
The school decided to allow the teacher's visit but not before first saying it would scrap it.
On the same day in Texas, Navarro College, near Dallas, rejected  students from Nigeria, saying the college "is not accepting international student from countries with confirmed Ebola cases."
Nigeria has been declared Ebola-free. The distance between the capitals of the two countries is more than 2,600 kilometers.
For anyone worried about pets or other animals carrying Ebola, veterinarians at Texas A&M don't see reason to worry.
Also in Texas last week, three central Texas schools and two suburban Cleveland schools canceled classes because students or staff members traveled on the same plane as Amber Vinson, the second Dallas nurse to be diagnosed with Ebola. Infectious disease officials say school officials in both Texas and Ohio overreacted
Are Americans overreacting? CNN says yes. Examples:
A Dallas lab worker isolated herself in her cabin on a Carnival Cruise because she may have handled Thomas Eric Duncan's lab specimen. She was cleared, but Moore, Oklahoma, schools asked students and faculty on the same cruise not to come to school.
A woman boarded a shuttle bus in a Pentagon parking lot, got off and vomited. A hazmat team responded, military officials were quarantined and the woman was put in isolation. She did not have Ebola.
Same scenario, only this time on an American Airlines plane from Dallas to Chicago. Again, no Ebola.
A teacher from Maine went to Dallas for a teaching conference. She stayed at a hotel 10 miles from hospital, where Thomas Eric Duncan died of Ebola and had no contact with anyone associated with Duncan. Her school put her on 21 days leave anyway. 21 days is the incubation period for Ebola.
A principal from Mississippi was also put on leave because he attended his brother's funeral in Zambia. Zambia is 2,900 miles from Liberia, and Zambia has no reported cases of Ebola.
And finally this: Students who recently moved from Africa to Maple Shade, New Jersey, are being kept from school. The children have no symptoms of Ebola and moved from Rwanda, not West Africa where the Ebola outbreak is happening. Rwanda is 2,600 miles from the closest Ebola-affected country.
— Sue Jepsen