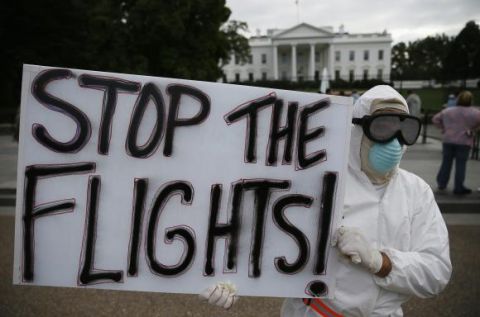 (Reuters) – The United States ratcheted up its safeguards against Ebola on Tuesday, requiring travelers from three countries at the center of an epidemic in West Africa to fly into one of five major airports conducting enhanced screening for the virus.
The restrictions on passengers whose trips originated in Liberia, Sierra Leone or Guinea were announced by the U.S. Department of Homeland Security and were set to go into effect on Wednesday. The precautions stop well short of the travel ban sought by some U.S. lawmakers to prevent further Ebola cases in the United States.
Affected travelers will have their temperatures checked for signs of a fever that may indicate Ebola infection, among other protocols, at New York's John F. Kennedy, New Jersey's Newark, Washington Dulles, Atlanta, and Chicago's O'Hare international airports, officials said.
"We are working closely with the airlines to implement these restrictions with minimal travel disruption," Homeland Security Secretary Jeh Johnson said in a statement. "If not already handled by the airlines, the few impacted travelers should contact the airlines for rebooking, as needed."
Johnson said those airports account for about 94 percent of travelers flying to the United States from the three countries, noting that there are no direct, nonstop commercial flights from Liberia, Sierra Leone or Guinea to the United States.
The restrictions apply to all travelers, including U.S. citizens and those who would have arrived by land or sea.
Washington-based trade group Airlines for America, or A4A, noted that under 150 people per day travel to the United States from those three countries, and about 6 percent of them – some nine people daily – have been arriving at airports other than the five airports with the enhanced Ebola screening.
The group's member airlines are "cooperating fully" with the U.S. Customs and Border Protection agency to reroute that 6 percent of travelers to the five designated airports, A4A spokeswoman Jean Medina said.
The group's members include Delta Air Lines, United Airlines and American Airlines, none of which fly to the affected countries. However, they may carry passengers from these countries on a connecting flight.
The worst Ebola outbreak on record has killed more than 4,500 people, mostly in Liberia, Sierra Leone and Guinea. The United States has experienced only three infections and one death from Ebola, but public concern has been rising and many lawmakers have pressed President Barack Obama to take tougher action.