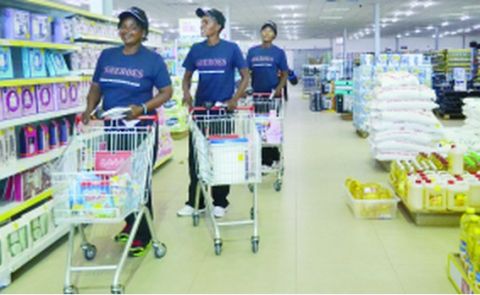 THE Zambia netball team players and officials were yesterday given shopping vouchers worth K7, 500 by Pound Stretcher Zambia following their qualification to the Sydney 2015 World Netball Championship.
Players and coaching staff treated themselves to goods worth K500 each at the Lusaka based shop.
Coach Pauline Nsombwe said the move by Pound Stretcher had motivated the team to even perform better at the World Cup.
"Pound Stretcher Zambia has really encouraged us to work hard. The team put in so much to qualify for the World Cup. And it's good that our efforts are being recognised," Nsombwe said. Nsombwe said she will use the 2015 Africa Championship in May to prepare the team for the World Cup to be held in August in Australia.
She said the team was scheduled to begin preparations for the two events in January so that the players can be in good shape before the competitions started.
Pound Stretcher Zambia country director Andrew de Mel said the company was encouraged to give the shopping vouchers because the team proved that they could achieve the unexpected.
He said the Africa Netball Championship was highly competitive but that the fact that Zambia succeeded in clinching a place at the World Cup showed that the team had the zeal to go further, hence the motivation.
"At first, we gave them jerseys amounting K5,000 for the Africa Championship and they produced unexpected results and deserve to be appreciated. I must state that Zambia has talented netball players and just needs to identify talent at grassroots level," he said.
He said that Pound Stretcher Zambia in conjunction with the Sri Lanka community had provided the national team with a team doctor who would be attached on voluntary basis.
He said Titus Fernando, who is working under the Ministry of Health at Kafue District Hospital, would help the team prepare for the World Championship.
Meanwhile, Fernando, who carried out medical checkups on the team yesterday, said his aim was to make sure that team was fit ahead of the World Cup finals.
Netball Association of Zambia (NAZ) general secretary Pritchard Ngoma thanked the Sri Lanka community for making the association work easier by providing a well-qualified doctor to the team.
Ngoma said that a high performance coach from Sri Lanka Thilaka Jinadasa would arrive in the country in April next year to help drill the team ahead of the Africa and World Championship.
He said that the desire of the association is to have a well-prepared team for the event and appealed to the corporate world to come forward and help the team.
The Zambian team would be making their second appearance at the World Netball Championship having last participated in New Zealand in 1999.