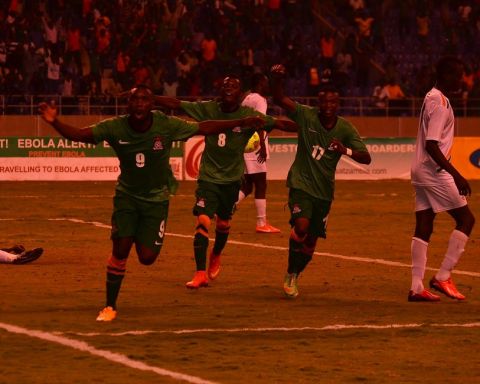 GOVERNMENT is confident that Zambia will qualify to the 2015 Africa Cup of Nations (AFCON) finals following the team's silk display in the 3-0 win over Niger at Levy Mwanawasa Stadium in Ndola on Wednesday.
Chief Government spokesperson, Joseph Katema said in a statement yesterday that the victory showed that with hard work, nothing was impossible.
Katema, who is also Information and Broadcasting Services Minister, said the players and the coaching bench deserved to be commended for their determination, discipline and team work that resulted in victory.

"Government and the people of Zambia harbor no slightest of doubt that the 2012 Africa soccer champions have the necessary skill, technique and determination to overcome the remaining opposition and qualify to Africa's prestigious soccer tournament.
"The team has done it before and we have no cause to doubt that it will do it again and bring honour and glory to the country," Katema said.
Zambia Football Coaches Association (ZAFCA) vice-president, Lewis Shambulo hailed Chipolopolo coach Honour Janza for recording his first competitive victory for the country since taking over the reins in August.

Shambulo said in an interview yesterday that the win would boost Janza's confidence and team spirit ahead of the remaining qualifiers, taking into account the pressure he had undergone in the opening three games where Zambia picked just two points out of the possible nine.
"It's a good result for Janza especially that he has endured intense criticism from fans following a poor start and I think we have to congratulate him for a good result that puts Zambia in contention of a qualifying spot," Shambulo said.

Chipolopolo Soccer Fans Association (CSFA) chairperson Yotam Mwanza said the Chipolopolo must not go to sleep as Mozambique poses a serious threat to their bid for qualification.
"We need to build on this victory going into the next game and I think qualification is ours to lose. We are happy with the way the team played and if we maintain the same spirit and confidence levels, we will win our last two games," Mwanza said.

Meanwhile, scores of soccer fans in Kabwe yesterday mobbed striker Emmanuel Mayuka as he made a brief stopover in his home town on his way to visiting his mother.
Mayuka, who started his career with the 'Magnificent' Kabwe Warriors, was on target on Wednesday, grabbing the second goal in the victory over Niger.
Traffic came to a standstill in the central business district as excited fans jostled to catch a glimpse of their homegrown hero.
The Southampton striker however took time to greet the fans before driving off.
Times of Zambia