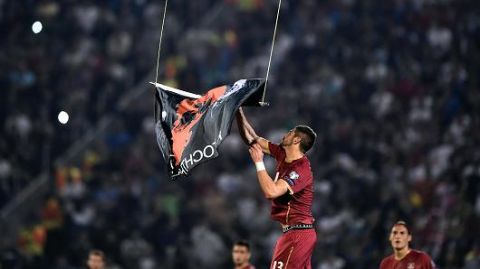 A drone caused a mass brawl at an international soccer game in Europe on Tuesday evening which forced the match to be abandoned.
The already politically tense European Championship qualifying match between Serbia and Albania was being played in the Serbian capital of Belgrade when, in the 40th minute, the game was briefly stopped. A small unmanned craft appeared over the players' heads trailing an Albanian flag. The Serbian defender Stefan Mitrovic then grabbed the flag, sparking a tussle with the Albanian players who were trying to keep it out of Serbian hands.
A violent melee then ensued between Albanian and Serbian players with team officials and substitutes rushing onto the field to help their colleagues. Riot police then became involved when fans invaded the pitch and flares were thrown. The players retreated into the tunnel before English referee Mark Atkinson decided to abandon the game with the match still goalless
There is a long history of tensions between the two Balkan countries. The turbulence in the region centers on the Republic of Kosovo, which contains a mix of Serb and Albanian inhabitants. It declared independence from Serbia back in February 2008 and has been recognized by the United States and major European Union countries. However, Serbia and ally Russia refuse to recognize the state.
The flag flown by the drone on Tuesday evening depicted the region of "Greater Albania", according to Reuters news agency, an area that includes Kosovo.
ANDREJ ISAKOVIC | AFP | Getty Image