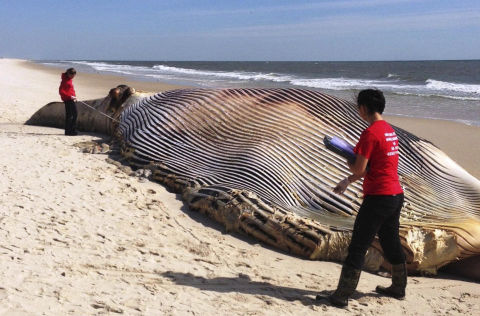 SHIRLEY, N.Y. (AP) — Authorities are investigating the death of 58-foot finback whale that washed ashore on an eastern Long Island beach.
Kimberly Durham of the Riverhead Foundation for Marine Research and Preservation says the whale was spotted Thursday morning at Smith Point County Park beach in Shirley.
Durham says a forensic examination is being conducted to determine a cause of death. She says the whale shows signs of advanced decomposition, requiring an internal examination.
The foundation is working with county officials on how to dispose of the whale.
Durham says finback whales have been spotted off eastern Long Island frequently in recent months.
She says a dead leatherback turtle also was found nearby on Tuesday. The two discoveries appear unrelated.
The turtle was buried on the beach.