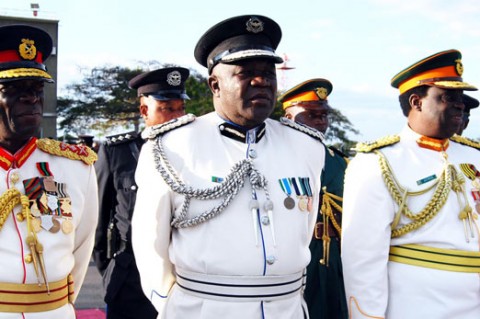 Former Zambia Air Force Commander Lieutenant General Andrew Sakala has been sentenced to 5 years imprisonment with hard labour by a Lusaka Magistrate Court for theft by public servant involving K1.5 million.
Deputy Director of Local Courts sitting as Magistrate Wilfred Muma on Monday, October 6 found General Sakala guilty of theft by public servant involving funds meant for operations prior to and after the 2011 general elections. Magistrate Muma however acquitted General Tembo's co-accused former Army Commander Lieutenant General Wisdom Lopa and former Zambia National Service Commandant Lieutenant General Anthony Yeta.
In sentencing General Sakala this morning, Magistrate Muma hoped the sentence will serve as a deterrent to would be perpetrators of a similar crime.
He noted that while General Sakala deserved leniency from the court, the crime he committed was serious which carries a maximum custodial sentence of 15 years.
In his mitigation General Sakala asked the court for leniency considering his rendered service to the country and the role he played in ensuring the smooth transfer of power following the 2011 tripartite election.
Particulars of the Offence were that between 16th and 21st September,2011, General Sakala received K1,500,000 through the ZAF Aircraft Hire Account , money meant for operations during the September 2011 General Elections which he is alleged to have distributed to his colleagues.
QFM NEWS
( Friday 10th October 2014 )