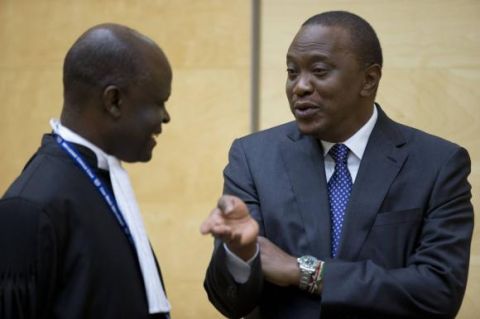 (Reuters) – A defense attorney for President Uhuru Kenyatta called on judges at the International Criminal Court to throw out allegations of crimes against humanity, saying prosecutors had failed to prove their case after five years of investigations.
Prosecutors countered that Kenyatta's government obstructed the hunt for the evidence and requested an indefinite postponement of the trial. They said sanctions should be considered to force Nairobi to comply with its obligations to cooperate.
"The case has failed and it has failed in a way that means there is no prospect of it going further," defense lawyer Stephen Kay said, calling on the judges to find his client not guilty. If the prosecutor doesn't offer more evidence, "you act to terminate."
Kenyatta was summoned to the Hague-based tribunal to answer questions about his indictment on charges of orchestrating a wave of deadly post-election violence that swept Kenya in 2007.
He is the first sitting head of state to answer a summons to the court, established 11 years ago to prosecute individuals for serious crimes when domestic courts are unwilling or unable to do so.
Judges adjourned the hearings and are expected to make a decision about the trial's future before the end of the year.
Kenyatta, dressed in a dark blue suit, did not speak in court, but was defiant in comments to journalists as he left the court to catch a flight back home.
"We as Kenyans, we know where we came from, we know where we are going, and nobody will tell us what to do," he said.
Kenyatta denies charges that he acted as an "indirect co-perpetrator" in crimes, including murder, deportation or forcible transfer, rape, persecution and other inhumane acts.
The legal impasse is unprecedented in international law. Previous high officials from conflicts in the former Yugoslavia and Rwanda were under arrest when they appeared in court, and were no longer in power at the time of their appearance.