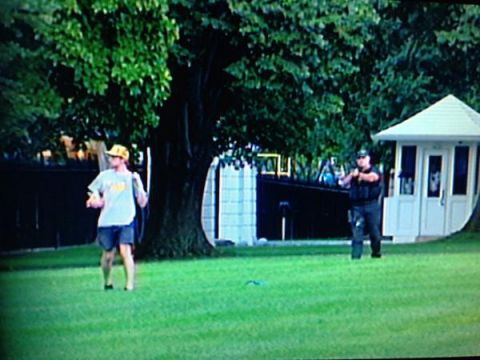 Secret service officers missed three earlier chances to deter the armed intruder who broke into the White House this month, according to devastating new evidence of security lapses leading up to the incident.
Omar Gonzalez, a former army sniper diagnosed with post-traumatic stress disorder after serving in Iraq, was first interviewed by the secret service after he was referred by local police worried by an arsenal of 11 heavy weapons and an annotated map pointing to the White House.
On a second encounter, he was discovered walking around outside the White House fence with a hatchet, but was let go by secret service officers after he told them he was going camping.
And on a third occasion, two officers spotted and recognised Gonzalez outside the White House again but failed to report him before he scaled the fence, ran unimpeded across the North Lawn and through three rooms of the residence just minutes after the departure of president Barack Obama and his family.
The fresh evidence given to the House oversight committee for a hearing on Tuesday confirms officers provided misleading public statements after the event, claiming the intruder was unarmed and implying he did not make it past the front door, when in fact he barrelled past an agent who was trying to lock the door and made it more than 80 feet into the building with a three-inch serrated knife.
He was eventually wrestled to the carpet and handcuffed by an off-duty-officer who just happened to be passing through, according to fresh disclosures by a whistleblower to the Washington Post.
At the hearing, secret service director Julia Pierson also confirmed recently disclosed details of a separate incident in 2011 during which seven bullets were fired by another man at the first floor of the residence, the noise of which was dismissed by secret service supervisors as a car back-firing until evidence of the shooting was discovered by cleaners several days later.
The catalogue of blunders produced an angry response from congressmen in both parties who questioned the competence of Pierson, who was herself brought in to clean up the elite unit after earlier scandals in which drunken officers were found passed out during a presidential trip to Amsterdam and visiting prostitutes in Colombia.
"I have very low confidence in the secret service under your leadership," Massachusetts Democrat Stephen Lynch told Pierson. "My confidence in you protecting the president is very, very low right now. I don't think you are taking your job seriously."
Congressmen were also angered by Pierson's bureaucratic tone and defensiveness, frequently interrupting to ask what would have happened if Gonzalez had been a more serious threat.
"I wish to God that you protect the White House like you protect your reputation today," added Lynch. "This is the US secret service versus one one individual with mental illness and you lost: you had three chances at this guy and he still got to the Green Room. What happens if you have a sophisticated adversary with nefarious intent? What happens then?"
Pierson conceded that she was responsible for the "unacceptable" fence-jumping incident, but insisted her officers had exercised "restraint" by not shooting him or releasing guard dogs designed to tackle intruders and could not have detained him in earlier encounters.
"We all are outraged at how this situation came to pass … it is obvious that mistakes were made," she said. "We don't take it lightly [but] there is not a lot we can do with mentally ill individuals who do not commit a crime. We are limited by the laws."
She said there had been 16 White House fence jumpers over the last five years, including six this year alone and one the week before Gonzalez, but did not directly answer Washington DC delegate Eleanor Holmes Norton, who asked why there was not a higher fence.
Virginia congressman Gerry Connolly briefly pushed back at Republican suggestions that secret service agents always ought to use lethal force in such situations, saying "the idea we have a shoot out on the White House lawn ought to be a last resort not a first resort".
Nevertheless, the hearing raised fresh questions about the competency and culture of an agency tasked with protecting a president who receives three times as many death threats as any of his predecessors.
Elijah Cummings, the top Democrat on the committee, said he was particularly alarmed at suggestions that agents were reluctant to report security threats internally for fear of attracting criticism from their superiors.
This followed news that one agent who heard the 2011 shooting and broke open an emergency weapons cache to defend the residence had not mentioned it the next day because supervisors were so insistent the noise was just a car back-firing.
http://www.theguardian.com/world/2014/sep/30/secret-service-white-house-intruder-omar-gonzalez