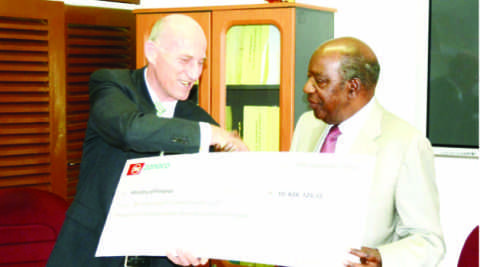 FINANCE Minister Alexander Chikwanda has taken Rabobank to task over the insignificant number of Zambians in the top management of Zanaco from the time the bank was privatised.
Mr Chikwanda said Zanaco had always been run by Zambians who were doing very well but from the time the bank was privatised, the presence of Zambians in top management of the institution had become insignificant.
The minister said this at the handover of the Zanaco dividend payment to the Government in Lusaka yesterday.
"You cannot take an institution which is running very well but now you have changed management, you leave them as board chairman when that position is just window-dressing," Mr Chikwanda said. "We want much more significant representation of Zambians in the running Zanaco."

He, however, commended the bank for increasing its capital stock up to US$30 million, saying that showed that the shareholders were behaving responsibly.
Mr Chikwanda said the dividend the Government had received would go a long way in the continued development projects that the Government had embarked on this year and beyond.
He said the Government wanted Zanaco to be bigger than it was and requested it to increase its support to small-scale farmers and small and medium enterprises and improve support from $20,000 beneficiaries to $30,000.
"We want the $30,000 to be expedited so that small-scale farmers and small and medium enterprises could benefit," Mr Chikwanda said.
Zanaco managing director Bruce Dicks said the bank had recorded K186.3 million, recording a growth of 19 per cent and total equity of K867.6 million, representing growth of 22per cent.
Total assets for the bank were at K6.9 billion, recording a growth of 20 per cent.
Mr Dicks said Zanaco was committed to conducting its business in a transparent and efficient manner.
Zanaco was proud to be associated with the Zambian Government which the bank had continued to partner with in the education, agriculture and health sectors.