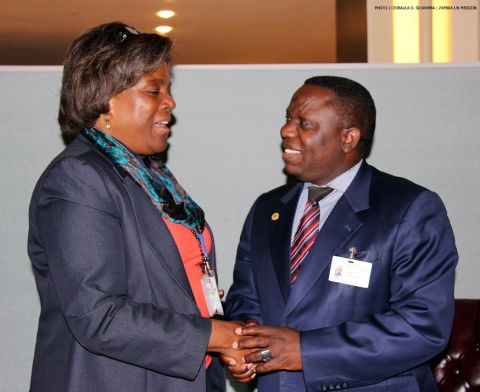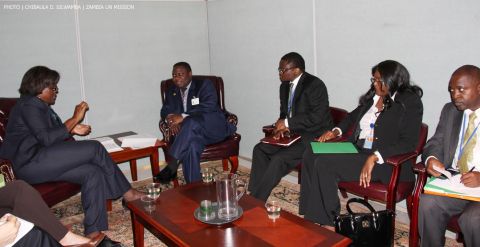 NEW YORK, Sunday, September 28, 2014 – Zambia's Foreign Affairs Minister Harry Kalaba and US Assistant Secretary of State for African Affairs Linda Thomas-Greenfield have held a bilateral meeting, and discussed various issues including efforts to combat Ebola, peace and security in Africa, governance and peacekeeping.
The duo exchanged views on issues of interest to both countries and the international community.
Mr Kalaba and Ms Thomas-Greenfield met at UN Headquarters in New York on Friday on the sidelines of the annual General Assembly General Debate.
Ms Thomas-Greenfield commended Zambia for its role in fostering peace and security in Africa.
Mr Kalaba assured the US Government of Zambia's continued commitment to promote and encourage peace and security in the Southern African Development Community (SADC), and the entire Africa as a whole.
He said peace and security will enhance social and economic development of the people in the 54-nation continent.
Mr Kalaba and Ms Thomas-Greenfield renewed their Governments' resolve to strengthen bilateral ties.
Zambia's Ambassadors to the UN and US, Dr Mwaba Kasese-Bota and Mr Palan Mulonda respectively, Ministry of Foreign Affairs Assistant Director for International Organisations Eliphas Chinyonga and Assistant Director for the Americas and Caribbean region Patricia Chisanga-Kondolo accompanied the Minister to the bilateral meeting.
Issued by:
CHIBAULA D. SILWAMBA (Mr.)
First Secretary for Press and Public Relations
Permanent Mission of the Republic of Zambia to the United Nations