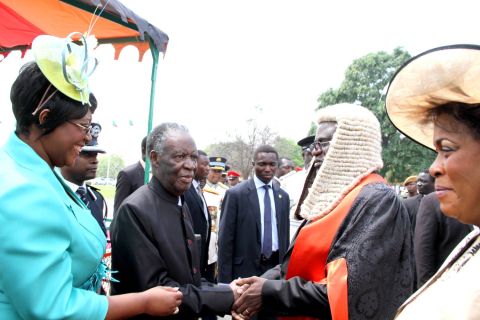 SPEAKER of the National Assembly, Patrick Matibini on Thursday evening reprimanded Cabinet ministers for missing parliamentary sessions.
Dr Matibini said he would hold talks with leader of Government business in the House Vice-President Guy Scott to see how best the issue could be resolved.
He said this in a ruling on a point of order raised by Mazabuka Central Member of Parliament (MP) Garry Nkombo who asked the Speaker whether ministers were in order to continue taking a laissez-faire attitude to parliamentary business.
At the time Mr Nkombo raised the point of order, only three cabinet ministers were in the House including Finance Minister Alexander Chikwanda, Labour and Social Security Minister Fackson Shamenda and Agriculture and Livestock Minister Wylbur Simuusa.
"I will talk to His Honour the Vice-President to see how best we can sort out the problem, it is wrong for Cabinet ministers to miss parliamentary sessions and the issue needs to be resolved as soon as possible," he said.
Dr Matibini also implored the House to debate uninterrupted to enable parliamentarians on the floor complete their thoughts on an issue.
Meanwhile, Parliament on Thursday heard that Government had reached an advanced stage with its intentions to reform the bursaries committee.

Education Deputy Minister Neverlyn Wilombe said the bill to establish a Loans Board had been drafted and was currently at the Ministry of Justice.
During the Questions for Oral Answer Session, Professor Wilombe said once the Bill was finalised, it would be taken to Parliament for approval.
This was in response to Mumbwa MMD MP Brian Chituwo who wanted to know when the ministry would revise the bursaries given to Government sponsored students in colleges and universities in view of the rise in the cost of living.
But, Prof Wilombe said the bursary could only be revised once funding had improved saying it could not happen as there were many competing needs in the country requiring funding.
Times of Zambia