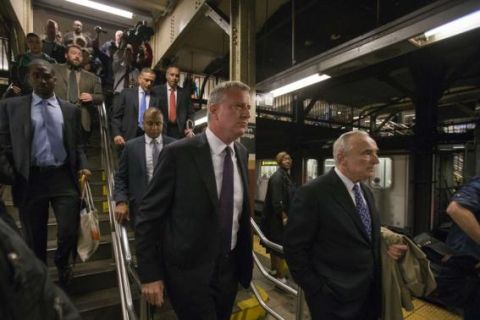 (Reuters) – A warning by Iraq's prime minister that Islamist militants planned to attack New York City sent political leaders scrambling on Thursday to assure the public it was safe to ride the subways and travel the streets of the nation's largest city.
New York Governor Andrew Cuomo and New York City Mayor Bill de Blasio each had the same idea – take a subway ride to a busy transit hub to announce that everything was under control.
"I have a simple message for all New Yorkers. There is no immediate credible threat to our subway system," de Blasio said at a hastily arranged news conference at Manhattan's Union Square where he arrived by subway from City Hall.
A few minutes earlier, and a few blocks away, the governor staged his appearance by taking a subway to Penn Station, a major rail terminal.
"You are going to see a greater police presence than you have seen before," Cuomo said. "Don't be alarmed. If anything, that should be comforting."
While the newest threat was unsubstantiated, the added police presence was a precaution, said New York Police Commissioner William Bratton, who appeared alongside the mayor.
Their public reassurances were reminiscent of pronouncements by former Mayor Rudolph Giuliani when New Yorkers, devastated by the Sept. 11, 2001, attacks on the World Trade Center, were fearful of further devastation to the city.
The security concerns arose after Prime Minister Haider al-Abadi said Iraq had received what he termed credible intelligence that Islamic State militants planned to attack subway systems in Paris and the United States.
Senior U.S. and French officials promptly said they had no evidence to … READ MORE