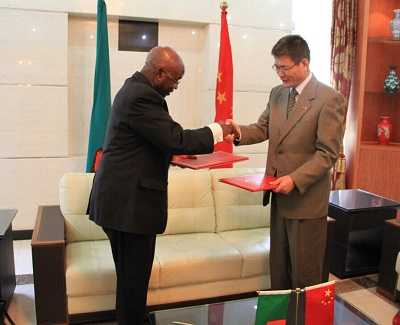 H.E. Yang Youming, Chinese Ambassador to Zambia, together with H.E. Ambassador Simasiku, National President of the Zambian Red Cross Society, signed the Exchange of Notes on Non-Emergency Humanitarian Assistance Program, on behalf of the Red Cross Societies of both countries respectively. Mr. Chai Zhijing, Economic and Commercial Counselor from the Chinese Embassy in Zambia, and officials from the Zambian Red Cross Society witnessed the signing at the Chinese Embassy in Lusaka.
Under the Non-Emergency Humanitarian Program, the Red Cross Society of China is going to provide a batch of equipment and materials to the Zambian Red Cross Society, which includes disaster relief, medical supply, office equipment, first aid kits and other materials.
In his remarks at the function, Ambassador Yang said that this donation expresses the friendly feelings from the Red Cross Society of China to the Zambian Red Cross Society, and also the profound traditional friendship between the two countries. Ambassador Yang expressed his hope that the Zambian Red Cross Society would make best use of those equipment and materials, and further deepen the comprehensive cooperation in various fields between China and Zambia.
Ambassador Simasiku expressed his sincere gratitude to the friendly gesture from the Chinese side, and hoped the Red Cross Societies from both countries could avail this opportunity to further enhance the cooperation in the future.
From Chinese Embassy in Zambia