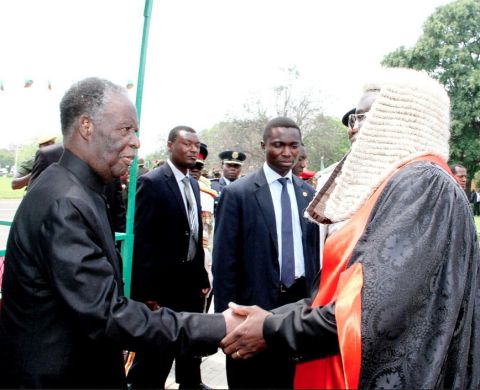 PRESIDENT Michael Sata has urged Zambians not to push for their personal interests in the Constitution-making process.
Speaking when he officially opened Parliament yesterday, Mr Sata said that the Constitution was a national issue which should not be mixed up with personal interests.
He said the constitution-making process should be handled with due diligence for the benefit of allZambians and the generations to come.
He reiterated Government's commitment to deliver a good constitution to the Zambian people.

"Let me report that Government has received the draft Constitution and is in the process of guiding the nation on the next course of action," he said.
Mr Sata said Government was set on promoting democracy and good governance, which were fundamental to creating, securing and maintaining a just Zambia.
He said Government had embarked on a review of the national legal and justice system, beginning with the constitution.
Reacting to the speech, Zambia Congress of Trade Unions (ZCTU) president Leonard Hikaumba, commended the President for tackling issues of health and education in his speech.
Mr Hikaumba said education and health were important to national development.

He, however, urged Government to address issues of poor conditions of service among teachers and medical practitioners.
Mr Hikaumba said service delivery could only be boosted with a motivated workforce.
He urged Government to revisit the wage freeze for this year and 2015. Government should also increase the staffing levels in hospitals and consider recalling the dismissed nurses.
Times of Zambia