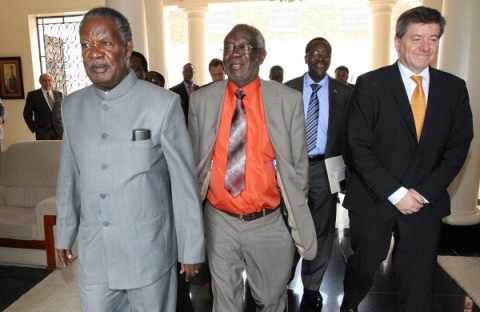 MINISTER of Labour and Social Security Fackson Shamenda yesterday reported the alleged attempted bribe by a Dangote Industries Zambia Limited official to the Anti-Corruption Commission (ACC).
And the ACC says it has taken interest in the case in which former Dangote human resources manager Bala Zango allegedly attempted to bribe Mr Shamenda.
In an interview in Lusaka yesterday, Mr Shamenda said: "I have now reported the matter to the ACC. The officers have just finished interviewing me."
The minister explained that he did not report the matter to ACC earlier because he felt he could deal with an African company by merely rebuking it.
"There is a perception by the whole world that black African companies are corrupt and so I wanted to protect their [Dangote] image but this man has opened up a Pandora's box," Mr Shamenda said.
The minister challenged Mr Zango to come back to Zambia and to state what exactly transpired.
"I want this man to come back here and challenge my allegations. I have been a unionist for many decades and I understand these things," he said.
But Dangote  denied Mr Shamenda's allegations that Mr Zango allegedly attempted to bribe him but that it was a mere social event.
The company claimed that Mr Zango is a junior officer in the human resource office in Nigeria who was in Zambia for only four months.
And in response to a query, ACC public relations manager Timothy Moono said the commission is currently studying the case in order to determine the way forward.
"I further wish to encourage members of the public to report all cases of alleged or suspected corrupt practices directly to the Anti-Corruption Commission," Mr Moono said.
Meanwhile, the ACC has signed a Memorandum of Understanding (MoU) with Transparency International Zambia (TIZ) to conduct a Bribe Payers' Index survey, which will see the two institutions conduct Bribe Payers Index survey.
The MoU is aimed at exploring better ways of tackling corruption.
ACC director general Rosewin Wandi signed on behalf of ACC while TIZ executive director Goodwell Lungu signed for his organisation.
Zambia Daily Mail