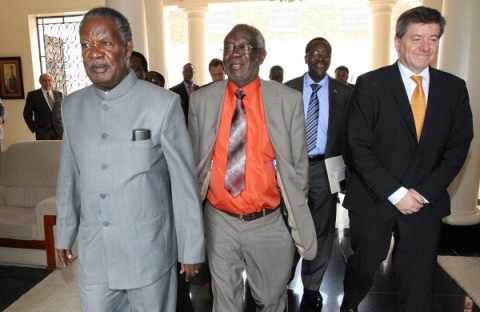 MINISTER of Labour and Social Security Fackson Shamenda has revealed that a former human resources manager at Dangote Industries Zambia Limited in Ndola allegedly attempted to bribe him at a hotel a week ago.
Speaking when he met Dangote management in Ndola on Saturday, Mr Shamenda said he is disappointed with the behaviour of the company's former human resource manager,  Bala Zango, for allegedly attempting to bribe him.
"One of your employees tried to bribe me six days ago. Corruption in Zambia is illegal. He told me that it was a tradition in their culture to give someone a token of appreciation,'' Mr Shamenda said.
The minister said he "sensed a rat" because he had critical labour issues to sort out with Dangote, which Mr Zango was representing at the time.
"Tell this person that the minister is not interested. I should call a spade, a spade,'' Mr Shamenda said.
He said the Patriotic Front (PF) administration abhors corruption and any investor found wanting will be held accountable.
At this point, Dangote operations manager Anand Kameshwar informed Mr Shamenda that Mr Zango's contract had expired.
But Mr Shamenda told Dangote management to warn Mr Zango of possible arrest for alleged corruption in an event that he returned to Zambia. He has returned to Nigeria, a country of his origin.
"Maybe his idea was that I turn a blind eye to what is happening at Dangote,'' Mr Shamenda said.
The minister, who was visibly upset, said this was his third visit to Dangote and it seems management is not willing to allow workers to join a trade union of their choice.
"Even if you have five employees or six, let them join the union,'' he said.
Mr Shamenda also directed management to submit to him a list of all Zambian employees and expatriates, including their conditions of service.
Mr Shamenda said he was accompanied by Labour Commissioner Cecilia Mulindeti-Kamanga, Mineworkers Union of Zambia (MUZ) president Nkole Chishimba, MUZ general-secretary Joseph Chewe and Workers' Compensation Fund Control Board (WCFCB) public relations manager Maybin Nkholomba to ensure that there was transparency in what he was doing.
He said Dangote should not exploit workers and that Government will not condone casualisation.
The minister also directed the company to employ a qualified human resources manager who is a Zambian and a member of the Zambia Institute of Human Resources Management.
He said having a qualified human resource practitioner will help address a number of labour issues, including the alleged mistreatment of some highly-qualified Zambians at Dangote.
"Next time I come here, I must find everything that I have asked you to do," Mr Shamenda said.
He, however, commended the company for investing in Zambia but warned it not to unnecessarily outsource labour.
zambia daily mail