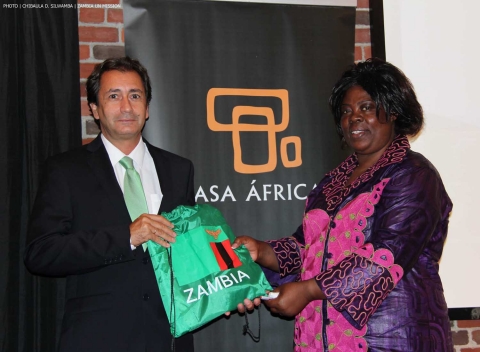 NEW YORK, Tuesday, September 9, 2014 – Tourism and Arts Minister Jean Kapata tells an investment and tourism gathering in New York that Zambia's tourism sector offers massive untapped investment opportunities.
Ms. Kapata was speaking at a panel discussion on Investment and Tourism in Africa, under the theme: "Tourism, the Untapped potential for future growth" organized by Casa África and Spain UN Mission in New York.
The Minister said Zambia has attractive policies and regulatory framework to attract foreign direct investment.
"My Government is strongly encouraging community private partnerships and Joint ventures between Zambian and foreign investors for their mutual benefits as this creates sustainable jobs and livelihoods," the Minister told the gathering that included investors, tourism experts, UN-accredited Ambassadors and diplomats.
The Minister said Zambia is in the process of piloting a UNIVISA with Zimbabwe.
After the pilot project, Ms. Kapata said the process would be extended to other member states of the Kavango Zambezi Transfrontier Conservation – Angola, Botswana, and Namibia – before spreading it to the remaining SADC countries.
"The Immigration Department is in the process of implementing the online visa project, whose introduction has been approved by Cabinet," Ms Kapata said. "The process for clearance of immigrants requiring visas at the port of entry has been streamlined with entrants being cleared within a minimum of up to three minutes using the visa automation system."
Ms Kapata said the Zambian Government had embarked on development of connectivity infrastructure in tourism sites.
The Minister said communities in Zambia's nature-based tourism sites should benefit from the sector for them to appreciate and preserve the resources.
Ms Kapata called on African countries to plan and integrate tourism into their economies as well as develop tourism products in a complementary manner for the continent to be competitive in the world.
In his opening remarks, Spain Minister of Industry, Energy and Tourism José Manuel Soria López said Spain believes in the catalytic role of investment and business in the promotion of economic growth and development in Africa.
"Spain's intention is to increase in the next years our investments in Africa," said Mr. López on Monday. "The better Africa goes, the better as well for Spain."
Other panelists were Namibia's Minister of Trade and Industry, Carl Schlettwein, Zimbabwe's Minister of Tourism Walter Mzembi, UN Under-Secretary-General Gyan Chandra Acharya, UNWTO representative Carlos Vogeler and moderated by South Africa and Sierra Leone's Ambassadors to the UN.
The panelists emphasized the importance of promoting investment in Africa, positive portrayal of the continent and the need for the resources to benefit the locals.
The panel discussion focused on highlighting the investment potentials of Africa and Spain's cooperation with countries in the continent.
Ms Kapata, who was accompanied by her Ministry's principal tourism development and research officer Chilala Habasimbi, also presented Zambia Golden Jubilee souvenirs to Spain UN Ambassador Román Oyarzun Marchesi and Casa África General-Director Luis Padrón.
Ms Kapata told Ambassador Marchesi and Padrón that Zambia's peacefulness in its 50 years of independence, confirms that the country is conducive for tourists and investors.
Casa África is the Spanish Government's public and economic diplomacy institution promoting cooperation with Africa.
Issued by:
CHIBAULA D. SILWAMBA (Mr.)
First Secretary for Press and Public Relations
Permanent Mission of the Republic of Zambia to the United Nations