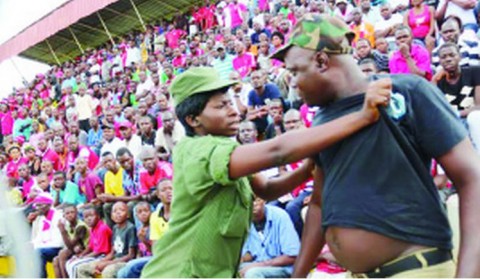 THE Chipolopolo Soccer Fans Association (CSFA) has called on FAZ to shut stadia for clubs whose fans are becoming violent whenever results do not go their way.
Speaking in an interview in Lusaka yesterday, CSFA president Yotam Mwanza said the increase in crowd violence in the local league was not welcome in Zambian football.

He said the vice should be stamped out with the force it deserves urging FAZ to come down heavily on those who would be found wanting, be it fans or clubs.
"We cannot condone violence in the league. This is unacceptable and it should be rooted out of Zambian football. We are bidding to host the 2019 Africa Cup and this is not the type of report we are expecting ahead of the bid winner announcement," Mwanza said.
There has been an increase of crowd trouble in the league recently and this was highlighted at the weekend where three of the four games that were in Lusaka had traces of violence with one game involving Zanaco and Kabwe Warriors getting abandoned.
And before the weekend abandoned game, two other matches had been abandoned this year and both involved Kabwe Warriors fans, first at home to Green Eagles and then at home against to champions Nkana.

He said FAZ should be strong on such clubs and fans suggesting various punishments ranging from docking of points, to shutting stadium to seeing to it that the clubs get to play behind closed doors
to any other punitive measure that will stop ugly scenes.
"Our fans should understand that there are three results to every game- a win, draw and a loss. You cannot win all games and also you can win the league by throwing stone and beating people," he said.

He also said these bad actions from the fans would weigh against Zambia's bid for the 2019 Africa cup hosting saying the punishment the FAZ would also met out will send a message to other fans as well as
the bid committee.
Times of Zambia