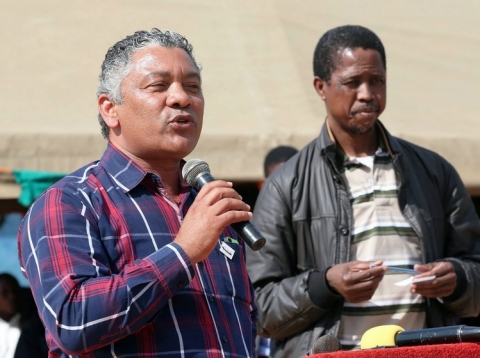 MINISTER of Justice Edgar Lungu says he will in the next two weeks unveil a proposed road map to guide the constitution-making process.
Mr Lungu, who is also Patriotic Front (PF) secretary-general and Minister of Defence, said a detailed road map will be presented to stakeholders so that they can be updated on the constitution review process.
He is concerned that there has been no detailed communication to stakeholders on the constitution-making process.
"I have been mandated to release a detailed road map on the constitution-making process and I am not ready to do that now until after two weeks because I want to bring every detail on board," Mr Lungu said.
The minister said this when he featured on the Zambia National Broadcasting Corporation (ZNBC) Sunday Interview television programme.
He said the constitution cannot be amended without a referendum, which is a costly and time-consuming undertaking.
Mr Lungu said he wants to issue an elaborate road map to clearly show every step of the process and the associated costs.
"The draft constitution will be released at the appropriate time. I appreciate those that want it now but if they knew the cost they would tone down," Mr Lungu said.
He said dialogue should be encouraged to ensure peace among stakeholders in the constitution-making process.
And Mr Lungu has advised politicians to desist from the culture of peddling tribalism when they fall out of favour from the appointing authority and when they lose elections.
"Why should tribalism only come up when one falls out of favour from the appointing authority or when they fail to get to higher office," Mr Lungu said.
He said it is unfortunate that politicians peddle tribalism when they fail to achieve their ambitions because they think they can get solace from it.
"Let us cut this culture and move forward because we are beyond that now and Zambia is a good mix," he said.
He said the culture of intimation towards police officers by cadres should stop and urged police officers to discharge their duties without fear or favour.
"As Government, we respect the mandate the police carry and they have discretion on how they handle these issues," he said.
Mr Lungu said police should not allow cadres to do things with impunity.
zambia daily mail