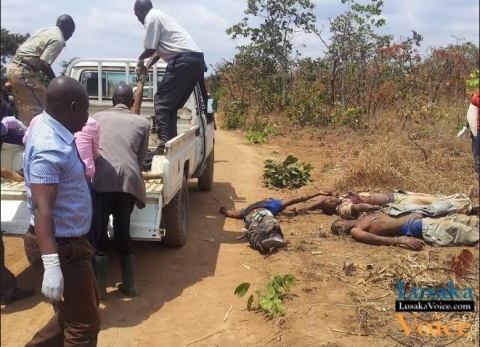 Tanzanian government  authorities have claimed the 7 bodies of the their nationals  shot dead by unknown people in the early morning of Friday last week.
The  seven bodies of middle aged men riddled with bullet shots where found dumped in a bush in Yolo village about 500 metres away from the Tanzania Zambia border.
ZANIS reports that Muchinga Province Deputy Police Commissioner Bonny Kapeso has confirmed the development in an interview in Chinsali  District today.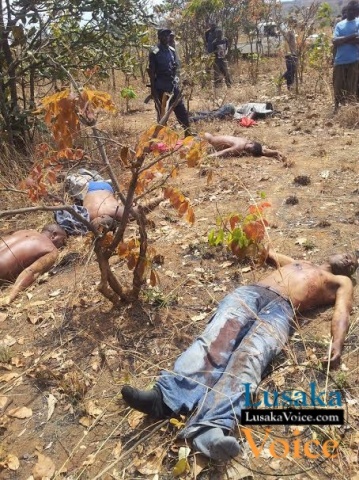 Mr. Kapeso said all the 7 bodies were claimed last night around 23:00 hours and taken back to Tanzania.
He  said police at Nakonde have also handed over one middle aged man who was nursing bullet wounds at New Nakonde District Hospital and is suspected to have been with the dead men.
Mr. Kapeso however, could not give details as to how the man survived.
A suspect was picked early in the morning on Friday near Chaula filling station with bullet wounds on the left side of the chest similar to the bullet wounds found on the slain men who were found dumped in a bush in Yolo village about 500 metres from the Tanzania / Zambia border.
Mr. Kapeso said police are still investigating the matter to find out the motive behind dumping the dead bodies on the Zambian soil.
On Friday last week, residents of Yolo village woke up to a rude shock when they found  seven dead bodies in the bush.
Yolo Village headman Laston Mugala told ZANIS in an interview that the 7 bodies were found by school- going children around 06:00 hours.
Mr. Mugala said they could not see or hear the sound of a vehicle that brought the 7 dead bodies and dumped them in a bush adding that marks of vehicle tyres dripping blood where visible over a long distance from Tanzania into Zambia where the bodies were dumped.
The seven bodies were kept at old Nakonde district hospital before they were claimed by the Tanzanian authorities.