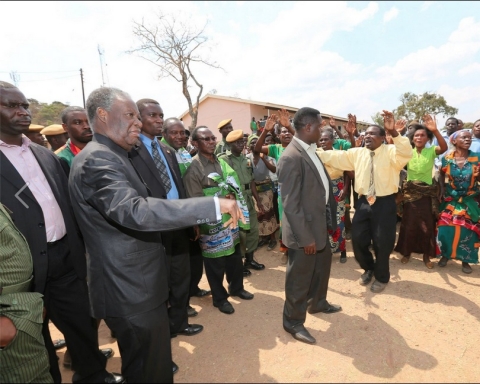 PRESIDENT Sata yesterday directed that the newly created Luano district be turned into an economic hub.
"There is virgin land here; the vast land is endowed with so much mineral wealth and agriculture land for large-scale farming," he said.
He was speaking when he addressed a mammoth rally at Old Mkushi Primary School.
Mr Sata said Government and the ruling Patriotic Front (PF) leadership should spearhead the development of the district and pledged to unveil the development master plan after the polls.
The President was in Luano to drum up support for PF candidate Davies Chisopa in the forthcoming Parliamentary by-election slated for September 11.
Mr Sata, who received a thunderous welcome by multitudes of party cadres and local people, said he will deliver more development in the area.
"I am here to drum up support for Chisopa. please, vote for him and I can assure you of more things to come," the President said.
He urged the electorate in Luano district to vote wisely adding that once Mr Chisopa is voted into office, the President will return to the district to unveil his master plan for the area.
President Sata called upon parents to look after their children as they are the future of the nation.
"I love children, and this is why it is important for us all to look after our children. Can I have all the little children come close to the dais? These are the future; let us build a united nation from its foundation," President Sata said.
Speaking earlier, newly appointed PF Secretary-General Edgar Lungu issued a stern warning to party cadres who have been sending messages through the Short Message Service (SMS) to divide the party further.
Mr Lungu also castigated those claiming that the PF had been hijacked by some new members.
"Which new-comers are these people talking about? We all started this party at the same time," Mr Lungu said.
He said the PF does not have a tribal clique as suggested by certain people adding that such sentiments were a waste of time.
"I am putting a caveat with immediate effect; I have put a halt to some people who have been sending me text messages suggesting that certain people belong to Wynter Kabimba," Mr Lungu said.
Mr Lungu also thanked President Sata for appointing him as party secretary-general and pledged his loyalty.
The secretary-general told the President during the rally that his first task was to unite the party and instil discipline at all levels.
"Mr President, the party is now in the right hands. I might have a small body but I have a big heart.  As PF, we will embrace all and we will not tolerate negative sentiments by those trying to win empathy from the general public through biased opinions," Mr Lungu said.
Kabwata member of Parliament Given Lubinda also thanked President Sata for his decision to finally stop the confusion that had rocked the party.
"I want to thank you President Sata for putting a stop to this confusion. Let us unite and work together as before. I have been quiet, I knew my time would come and this is it.
"I pledge my loyalty to you, sir, and the party, I never lost it at all.  I will do my best for Mr Lungu to succeed as secretary-general," Mr Lubinda said.
President Sata also held a closed-door meeting with 15 traditional leaders of both Luano and Mkushi districts.
Zambia Daily Mail