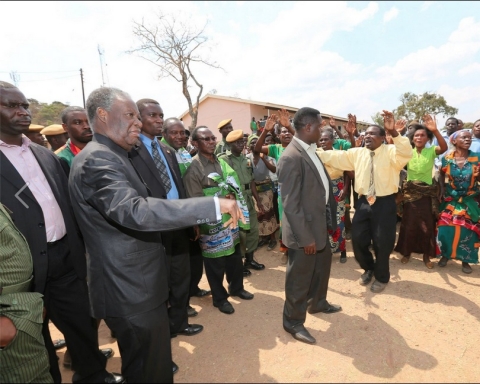 President Micheal Sata has appealed to the people of Luano District to vote for Patriotic Front, PF, candidate in the forth-coming Parliamentary By-Elections.
President Sata said this today when he addressed a campaign rally held at Old Mkushi Secondary School grounds, where he had gone to drum up support for Patriotic Front, PF, Candidate Davies Chisopa, in the September 11 By-Elections.
President Sata said he was in Luano district to specifically drum up support for Mr Chisopa as well as show the people that he was well and alive.
He advised Mr Chisopa, who is vying for the Mkushi South seat, to concentrate on the welfare of children once he is elected as Member of Parliament.
"  Mr Chisopa should prioritize children and women and ensure that their needs are addressed because most of them are vulnerable," the Republican President said.
He  further advised Mr Chisopa to learn from him when he was area Member of Parliament he  concentrated on the rights of children.
"These children are special and you must love them just as the Lord loved them. As you can see, they have various things and among the, education is key. Please ensure that their needs are addressed as you get into Parliament." President Sata said.
President Sata, also advised people of Luano to always look out for one another and encourage each other to vote for the ruling PF.
And Patriotic Front General Secretary, Edgar Lungu, says he is optimistic that PF will emerge victorious in the September 11 Parliamentary By-Elections.
Mr Lungu said this is because the people of Mkushi South Constituency have shown great confidence in the ruling PF which scooped all the five Wards in the August 12 Local Government By-Elections.
"Your Excellency, allow me to report that our party is quite popular in this part of the country. This can be evidenced by the recent Local Government By-Elections in which we scooped all the five Wards," He said.
He appealed to PF members to campaign vigorously and ensure that the party scoops the seat.
And Mr Lungu has disputed allegations that some new members have hijacked the party.
He told the large gathering that assertions that the Patriotic Front Party has been hijacked are false because no one has hijacked it.
"I would like to assure you fellow Zambians that no one has hijacked the party. That is just a rumour because most of us founding members are here and the party is intact.
"  The only truth is that the party has grown but obviously you all know the difference between growth and foundation," He said.
And commenting on his appointment as the Secretary General, Mr Lungu, who is also Defence Minister as well as Justice Minister, said he was not in the party for any mischievous agendas but that he is there to unite the party.
He said as the party's new Secretary General, he will not condone enmity among members but will strive to uphold unity and tranquility in the party.
"I want to state that as Party Secretary General, my major role is to unite the party and so I will not tolerate division setters in the party. I know that some of you are busy sending me messages, advising me to fire or side-line everyone that worked with my predecessor, Wynter Kabimba, but I will do no such thing.
"  You are just wasting your time because my main focus is to unite the PF party and set a good pace that will ensure its continuity after the 2016 General Elections," He said.
Meanwhile, Kabwata Member of Parliament, Given Lubinda, has thanked President, Michael Sata, for putting to rest the long-standing confusion that was in the party.
Mr Lubinda said the decision by the President will help restore the peace and harmony that the party enjoyed, previously.
H said he is personally happy with the appointment of Defence Minister, Edgar Lungu, as the party's new Secretary General.

"Your Excellency, I thank you for providing good leadership by making decisions that will restore peace and rejuvenate our party. I am especially happy with your appointing Edgar Lungu as our General Secretary because I know him as a peace-loving person and I have no doubt that he will deliver in accordance with your expectation as well as that of the party, he said.
And Mr Lubinda says the changes President Sata has made in the party will attract old members back to the party.
He said a lot of people left the party because they were victimized and were frustrated by some party members.
And the Parliamentarian has pledged his continued loyalty to President Sata and the Patriotic Front leadership.
Addressing the multitude at the rally, Mr Lubinda disclosed that he had remained mute during his dismissal from his ministerial position and subsequent suspension from party activities because he knew that one day, his time to speak would come.
He however said he has forgiven all his adversaries, especially those who were after his blood.

"Your Excellency, whatever we discussed in privacy, I will say it in public that I will be loyal to you and that I hold nothing against my adversaries, including those who were after my blood. I forgive them in the Mighty name of Jesus Christ," he added.
Mr Lubinda also urged other PF members who were still nursing the pain and humiliation imposed on them by some party members to embrace healing and use their experience to uphold peace in the party.
He further appealed to all party members to support new party Secretary General, Edgar Lungu, as he strives to unity the party and restore the party's dignity.