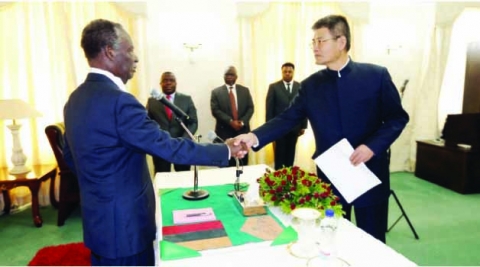 PRESIDENT Michael Sata has urged the newly-appointed Chinese?Ambassador to Zambia, Youming Yang to work for the good of the two?countries.
President Sata was speaking at State House yesterday when he received?credentials from the new Chinese envoy.

Presenting his credentials to President Sata, Mr Youming hailed the?cordial relations that have existed between Zambia and China over the?past 50 years.
Mr Youming was hopeful that he would contribute to the friendship and?development of the two peoples.
The ceremony was witnessed by Foreign Affairs Minister Harry Kalaba?and his Permanent Secretary George Zulu.-ZANIS