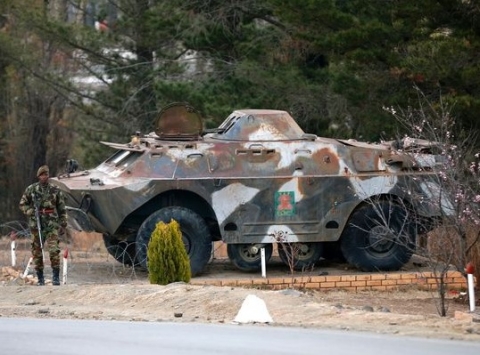 Lesotho's minister of public service, Motloheloa Phooko, said that he was the country's acting prime minister, after the elected premier fled the country during an apparent coup.
"I am acting prime minister," the minister told AFP on Monday from Maseru, citing "cabinet protocol" for his appointment while the prime minister and deputy prime minister are in South Africa.
Phooko is a member of the Lesotho Congress for Democracy party — which forms an acrimonious coalition government with Prime Minister Tom Thabane.
The party has denied any role in the alleged coup.
Phooko's comments are the first indication that a destabilising power vacuum seen since military action early Saturday is being filled.
Deputy prime minister Mothetjoa Metsing, also of the Lesotho Congress for Democracy party, is also in South Africa for talks, leaving Lesotho's citizens unclear who is in charge.
Before dawn on Saturday the military attacked key police installations, and surrounded the premier's residence in pre-dawn raids.
Prime Minister Thabane fled to South Africa shortly before, after being tipped off that the military was about to move against him.
The military have since returned to barracks, denying they planned a coup and claiming no political motive.
Phooko said he would issue a statement to the nation later on Monday, describing the political situation as "fluid".
Times Live : http://www.timeslive.co.za/africa/2014/09/01/lesotho-s-public-service-minister-says-he-is-acting-premier-after-coup