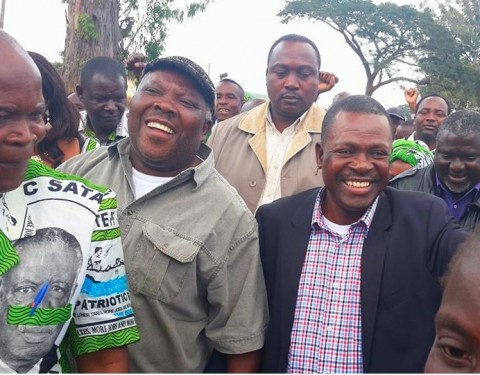 Chief Katyetye of the Tambo people of Isoka in Muchinga Province has commended President Michael Sata for firing Patriotic Front (PF) Secretary General Wynter Kabimba who was also Justice Minister.
In an interview with the Zambia News and Information Services (ZANIS) in Chinsali today, Chief Katyetye said as a traditional ruler he has welcomed the dismissal of Mr Kabimba, saying the move will unite the party and the nation.
Chief Katyetye said the firing of Mr Kabimba has not come as a surprise to him because he has been following closely the developments in the ruling party, adding that he has not been happy with what has been going on in the PF especially with regards to the behaviour of Mr Kabimba.
He charged that Mr Kabimba is not a leader and that his firing is long overdue.
He said as a traditional leader he is very happy with the general performance of the PF Government with its robust development programme covering the entire nation.
Chief Katyetye said the PF Government has performed better than any other past government in the few years it has been in power under the able leadership of President Sata who he described as a man of action who is committed to transform the entire country.
President Sata yesterday fired Wynter Kabimba as party Secretary General and Justice Minister.
President Sata has since appointed Defence Minister, Edgar Lungu, as Party Secretary General and Justice Minister.
And Muchinga Province Minister, Gerry Chanda, has charged that it is wrong for any PF party member to start campaigning for presidency which is not vacant.
Speaking in Chama District yesterday when he addressed district and constituency party officials in the council chamber, Col Chanda said the party leadership in the district should not allow any minister to campaign for the presidency because President Sata is fine and still President of the Republic of Zambia.
Col Chanda said it is wrong for anyone within the party to start campaigning for a position which is not vacant adding that the party should instead concentrate on party mobilisation and recruitment in readiness for the 2016 tripartite elections.
He said with the unprecedented development that the country has witnessed in the few years under the leadership of President Sata, the PF party will continue ruling for the next 50 years.