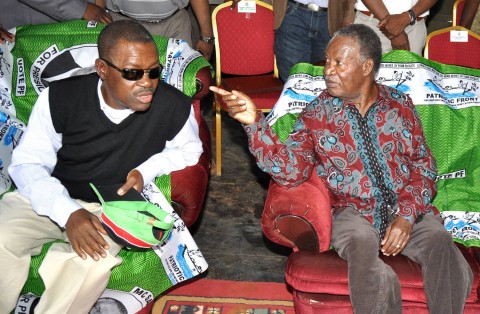 Zambian President Michael Sata fired Justice Minister Wynter Kabimba and removed him as secretary-general of the ruling party amid a succession battle sparked by reports of the leader's ailing health.
Sata's office made the announcement in a statement today on Facebook, without giving reasons. Defense Minister Edgar Lungu will take over Kabimba's roles as Justice Minister and secretary-general of the ruling Patriotic Front, according to the statement.
The ruling party is facing a disruptive struggle to replace Sata, 77, who remains absent from public life as questions about his poor health persist. Finance Minister Alexander Chikwanda, 75, and Kabimba had emerged as the main rivals to succeed the president, according to analysts such as Clare Allenson at Eurasia Group.
Kabimba "may have overestimated his power in the party," Trevor Simumba, managing director at the local unit of Oxford, U.K.-based Sub-Saharan Consulting Group, a research and advisory company, said by phone from Lusaka, the capital. His removal will "stabilize the internal politics within the Patriotic Front. Kabimba had too much of a polarizing effect in the party."
Four calls to Kabimba's mobile phone didn't connect, while Sata's spokesman, George Chellah, didn't answer calls seeking comment. Government spokesman Joseph Katema declined to comment when contacted by mobile phone.
Chikwanda said this week he is being targeted by a faction in the ruling party as part of a succession battle even though the presidency isn't vacant. Some local media were being used to attack him by "political allies whose mission may have crash landed," he said on Aug. 20.
Chikwanda 'Victory'
While symbolizing a "victory" for Chikwanda, Kabimba's dismissal also shows Sata is still in charge of Africa's second-biggest copper producer, Simumba said.
"It also gives hope to those who were unsure as to what the state of the president is, that he may be outside the public eye but at least he's still functioning," he said.
Kabimba, 56, was Sata's legal adviser between 1986 and 1988 when he was governor of Lusaka. Chikwanda served as finance minister under President Kenneth Kaunda, the nation's first leader after it gained independence from the U.K. in 1964.
Sata's deputy, Guy Scott, is barred from taking over from him because a law disqualifies citizens with parents born outside Zambia from becoming president.
Lungu, a lawyer, "is one of those ministers who is liked a lot including by the opposition," Simumba said.
To contact the reporter on this story: Matthew Hill in Lusaka at [email protected]
To contact the editors responsible for this story: Antony Sguazzin at [email protected] Karl Maier, Nasreen Seria