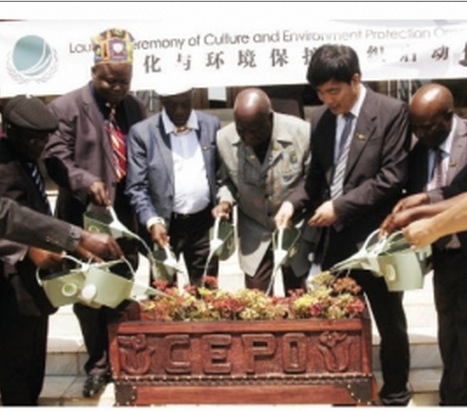 FORMER President Kenneth Kaunda was yesterday officially appointed as honorary chairman of the Culture and Environment Protection Organisation (CEPO), an initiative of Chinese entrepreneur and philanthropist, Zhou Ling.
CEPO, which Dr Kaunda officially launched yesterday at his residence in Lusaka, will focus on the promotion of culture and environmental activities and is expected to work closely with chiefs.
A pre-launch event of the organisation at Mulungushi International Conference Centre and official occasion at Dr Kaunda's residence were attended by several chiefs including Senior Chief Mukuni, Senior Chief Puta, Senior Chief Chiwala, Chief Chipepo, Chief Chikanta, Chief Chamuka, Chief Simamba and Chief Munukwa.
And accepting his appointment, Dr Kaunda said he is honoured to serve the organisation as its objectives are noble.
"Issues of culture and the environment are important, especially for the future generations. That is why I'm happy that the young man has set up this organisation. The setting up of this organisation is a sign that relations between China and Zambia are moving in a right way. My call is to ask people to join the organisation," he said.
Mr Zou said he considers Zambia as his home and as such feels obligated to take care of it, particularly in culture and the environment.
"With the economic developments and the acceleration of modernisation and urbanisation, the natural environment is being destroyed, the forest is reducing, and pollution is aggravating.
"At the same time, Zambia's traditional culture is also gradually fading and there is an increasing number of people, especially the youth, who don't understand the traditional language and history," he said.
Meanwhile, Home Affairs Deputy Minister Nixon Chilangwa has urged business houses to stop concentrating on making profit but to find ways on how they can promote the environment.
He hailed CEPO for supplementing Government's effort in promoting culture and protecting the environment.
"We would like to urge you to explore the business and cultural potential of other parts of Zambia and further sensitise our people on caring for the environment," he said.
Zambia Daily Mail