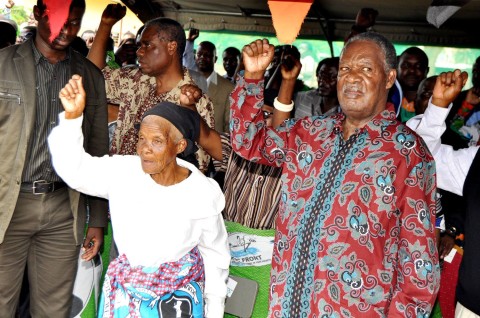 Finance Minister Alexander Chikwanda says President Michael Sata is very safe despite maneuvers by some Patriotic Front (PF) leaders who positioning themselves take over the republican presidency.
Mr. Chikwanda says those positioning themselves to take over the presidency even when there is no vacancy in the presidency will only injure themselves in the process because they cannot injure President Sata.
Speaking at a media briefing in Lusaka this morning, Mr. Chikwanda has however declined to name the said PF leaders saying it was not appropriate for him to use a media briefing to do so.
And Mr. Chikwanda has declassified the letter he wrote to President Sata in which he sought approval for his Ministry to instruct the Commissioner General of the Zambia Revenue Authority to streamline Value Added Tax General Administration Rule number 18.
Mr. Chikwanda says the letter dated 15th July, 2014, was meant to seek President Sata's approval to streamline Value Added Tax General Administration Rule number 18 so that it is limited to regulation and verification of exports and bank certification of receipt of exports in view of the un-cleared backlog of VAT refunds by government.
Mr. Chikwanda says the letter that is marked secret to imply that the letter was a government classified document, and has since been declassified with the indulgence of President Sata in view of it being leaked to the Post newspaper.
He says this especially that there was a lot of distortion in the newspaper articles on the contents of letter as the VAT rule that was referred to affects all exporters and not only those in the mining sector.
Mr Chikwanda states that the country's mines are therefore not being insulated from tax obligations.
The Finance Minister notes that it is for this reason that law enforcement agencies, whose duty is to protect government confidentiality and integrity, may wish to establish how the classified document got into the possession of unauthorized persons.
And Mr. Chikwanda has admitted that he has a stake in Sigma Enterprises, a UK registered company that is said to be supplying to the mines.
He says as a minority shareholder in company that was formed 28 years, he is not aware of any time that the company has ever solicited to supply the Mines in Zambia from the time that he has been Finance Minister.
( Tuesday 26th August 2014 )
qfm news