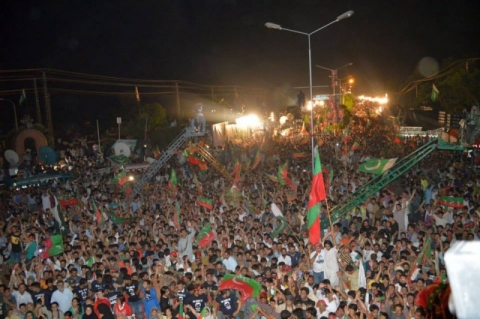 Following days of protests, tens of thousands of anti-government demonstrators led by two populist politicians, Imran Khan and Dr. Tahirul Qadri, peacefully breached the capital of Pakistan's no-go 'red zone' manned by thousands of police and paramilitary troops.
Protesters were seen handing flowers to police and military security, who have orders to show restraint while handling protesters.
Usually, only people with security clearance are able to enter Islamabad's red zone, which is a designated high security area around the country's key government buildings including the prime minister's secretariat.
On Aug. 19, protesters removed shipping containers barricading the red zone, which also houses foreign embassies in its diplomatic enclave; both parties have vouched not to violate it.
Popular cricketer-turned-politician Imran Khan leads the party Pakistan Tehrik-e-Insaaf (PTI) and Pakistan Awami Tehreek (PAT) is led by a Pakistani-Canadian Sufi scholar-turned-politician Tahirul Qadri. Both allege that the May 2013 general election, which brought current Prime Minister Nawaz Sharif's party to power in a landslide victory, was rigged. They are marching to the capital to demand that he step down.
Initially, the government led by Sharif's party PML-N took extraordinary measures to prevent the two opposition parties from launching their massive anti-government marches to the capital, some 300 kilometers from Lahore city, on Pakistan's independence day Aug. 14.
In the first days of the protests, the crowds were at a few thousand, but they have since swelled to almost 100,000, according to some estimates.
Authorities attempts to place more containers to block off the area hasn't stopped the flow of protesters. Police were reportedly allowing most people to enter the area and only "half-heartedly" checking vehicles.
http://globalvoicesonline.org/2014/08/22/tens-of-thousands-of-pakistanis-breach-security-barrier-around-prime-ministers-house-asking-him-to-step-down/