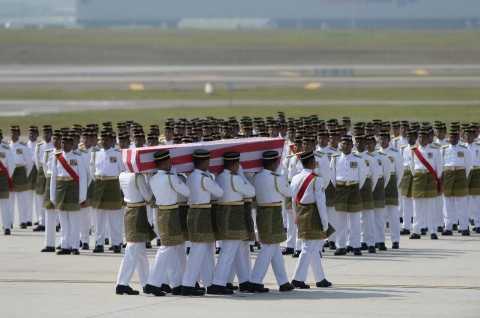 A plane carrying the first remains of the 43 Malaysians killed in the MH17 disaster returned home on Friday, where they were to be sombrely received on a national day of mourning.
The special Malaysia Airlines flight from Amsterdam touched down shortly before 10 am (0200 GMT), bearing the remains of 20 people killed when the plane was shot out of the sky over war-torn eastern Ukraine.
Malaysia's King Abdul Halim Mu'adzam Shah, Prime Minister Najib Razak and other top officials were on hand for a solemn ceremony to receive the coffins at Kuala Lumpur International Airport.
The observance was to be followed by a nationwide minute of silence expected to bring its busy streets, schools and businesses to a standstill across the country of 28 million, while flags nationwide flew at half-mast.
Authorities had earlier asked citizens of the Muslim-majority country to refrain from festive activities and don black out of respect for the victims.
Commuters streaming into the bustling streets of the capital Kuala Lumpur earlier in the morning were overwhelming black-clad, while state television aired recitations from the Koran and flashed photos of the Malaysian victims.
The flight arrived from Amsterdam, where remains have been taken for identification by Dutch authorities, who are leading investigations into the disaster.
All 298 on board the Amsterdam-Kuala Lumpur flight were killed, including 193 Dutch nationals.
The national day of mourning was the first ever to be held by Malaysia for ordinary citizens. Such observances had previously been held on the deaths of some kings and other leaders.
The West accuses Russian-backed separatists of shooting down MH17, while Moscow blames Ukraine.
The 43 Malaysian dead include 15 Malaysia Airlines crew members.
The tragedy compounded the country's grief over the troubling and still-unexplained disappearance of Malaysia Airlines flight MH370 just four months earlier.
Malaysia has said 30 of its citizens on board MH17 had so far been identified. Further remains will return in the coming days.
The search for further remains was called off earlier in August due to clashes between Kiev and the pro-Moscow rebels. Investigations are continuing into who was responsible for the tragedy.
SOURCE : http://news.yahoo.com/remains-mh17-dead-arrive-malaysia-023939244.html