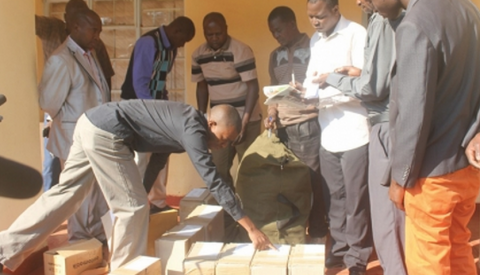 APATHY and peace were the catchwords in yesterday's Mangango parliamentary by-election contested by six parties.
Polling stations opened as scheduled just after daybreak at 06:00 hours, with queues forming slowly and growing by midday, without the acrimony that characterised the campaigns.
At Namimbwe polling station in Shikombwe ward, presiding officer Inambao Mokanwa declared the polling station open at 06:04 hours but by 06:10 hours, only one person had cast the vote.
At Kanjimba, only two people had voted by 06:30 hours.
The situation was, however, different at Namaloba polling station as 31 had voted by 08:06 hours, a trend that extended to Kalukundwe polling station, where 35 people had cast their vote by 09:00 hours.
However, the turnout was different at Chilombo polling station as over 100 people had queued up around 07:00 hours waiting for their turn to vote. More than 132 had cast their vote by 07:30 hours.
Kalamba polling station also recorded a good turnout as 89 had cast their vote by 08:30 hours.
Mangango has about 17,157 registered voters with 30 polling stations spread across the huge constituency.
Six political parties contested the seat, which fell vacant following the Supreme Court's nullification of the election of MMD's Robert Chiseke for electoral malpractice.
Rodgers Lingweshi represented the Patriotic Front, Charles Mwenzala stood on the MMD ticket while the UPND had Godwin Puta. Alliance for Democracy and Development fielded Mwene Nalawa, UNIP had Janet Chingumbe and the 4th Republican Party threw their hat in the ring through Mukumbuta Kubuyana but he pulled out of the race after filing his nomination.
And the Anti-Voter Apathy Project (AVAP) in North-Western Province has appealed to the Electoral Commission of Zambia (ECZ) to conduct voter education campaigns in Solwezi central in order to overcome voter apathy.
AVAP provincial coordinator Shepherd Mulumbi said most people in the constituency are not aware of the pending by election which has resulted in campaigns starting on a very low note.
"From what we have gathered on the ground as AVAP, we anticipate a low voter turnout because it has come to our attention that most people did not anticipate this by election to come at this time and this has even affected the campaigns which have actually started on a low note," Mr Mulumbi said yesterday.
He, however said AVAP is happy with the manner political parties are conducting their campaigns so far and appealed to political parties to desist from importing cadres to avoid fueling violence.
The Solwezi Central seat fell vacant after the Supreme Court nullified the election of Mr Mulusa on account of electoral malpractice.
Daily Mail Zambia