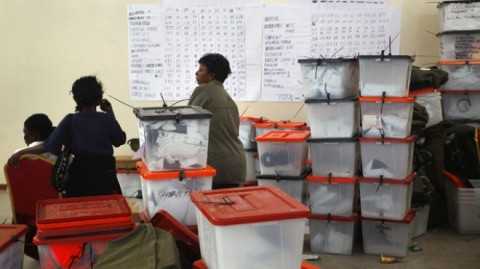 EASTERN Province Minister Malozo Sichone says the government will not condone any form of violence during the Kasenengwa and Vubwi by-elections.
And Sichone says the people of Kasenengwa were tired of corruption and were happy to have been given Gideon Zulu as the PF candidate.
In an interview at Chikungu Primary School after witnessing the filing in of nomination papers on Tuesday, Sichone warned that the government would not condone violence during the campaign period, regardless of one's political affiliations.
Sichone said there was need for all the political parties to respect each other and avoid violence.
He also advised political parties to avoid abusive language during the campaigns.
"We are the leaders, we are in government and what we want to see is that when we come to campaign we want peace. Campaigns must be packaged with respect. We are aware that some of the political parties started insulting way before this day but whoever is going to engage in violence, regardless of the party they belong to, including from my own party (PF), we are not going to condone that because our President, Michael Chilufya Sata, has emphasised that we should not engage in violence," Sichone said.
And Sichone said the people of Kasenengwa were now tired of corruption and needed development in the area.
He said people in the area had realised that they were bribed with salt and 'chitenge' materials to vote for certain people.
Sichone disclosed that the area had lagged behind in development since independence and the PF was the only party which was devoted to improving the area.
"The PF government would like to work with the people of Kasenengwa through Gideon. Government will endeavour to foster development in the area and we are asking you to vote for PF," said Sichone.
Victoria Kalima, whose election was nullified by the court, is recontesting the seat on the MMD ticket while UPND is fielding Timothy Nyirenda.
The Post Zambia