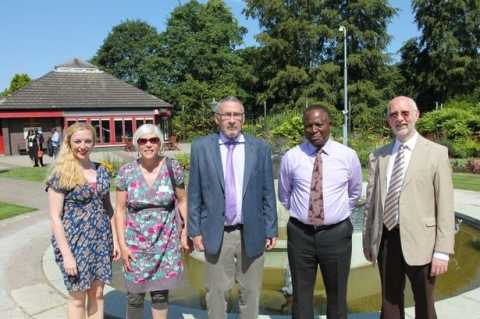 Blantyre was host to some very special guest visitors last week as the vice-president of Zambia and a group of Commonwealth athletes visited the David Livingstone Centre.
Vice-president Dr Guy Scott, who was also joined by Zambian and Kenyan athletes, was in Glasgow for the Commonwealth Games, but took time out of his schedule to visit the birthplace of explorer David Livingstone.
Dr Scott became Vice-President of Zambia in 2011. This made him the first white man to hold such high office in the African country.
Alison Richie, property manager at the David Livingstone Centre, Blantyre, said: "We were delighted to welcome Dr Guy Scott, Vice-President of Zambia, to the David Livingstone Centre. He spoke of growing up with Livingstone as one of his heroes, and said that it was thanks to Livingstone's legacy in Zambia that he, a white man, had been able to become Vice-President.
"For us here at the centre it's always amazing to meet people from so far away who feel such emotional attachment to David Livingstone."
The centre also played host to Glasgow 2014's 'Team Malawi' who enjoyed an official 'Malawi House' event on Wednesday, July 30.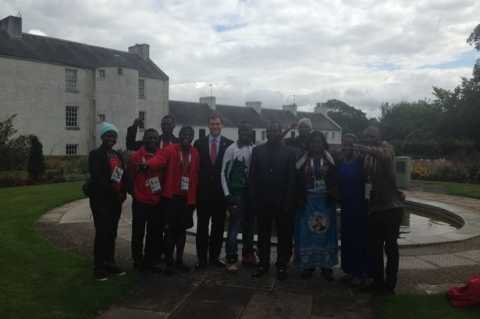 Tom Greatrex MP was also at the centre along with members of the local community to welcome Team Malawi and said: "I was delighted to join trustees of the David Livingstone Centre, representatives of the Scotland Malawi Partnership and members of the local community in welcoming some of Team Malawi to Blantyre.
"Having spoken to some of the competitors at the Athletes' Village, I know how keen they were to fit in a visit to Blantyre while in Glasgow for the Games.
"With such a strong link between Malawi and our part of Lanarkshire because of David Livingstone, it was a special privilege to show Malawian athletes where he grew up.
"Even though the visit was the day after Malawi had beaten Scotland at netball, the warmth of the welcome from Blantyre folk underlines the strength of the connection between our area and Malawi."