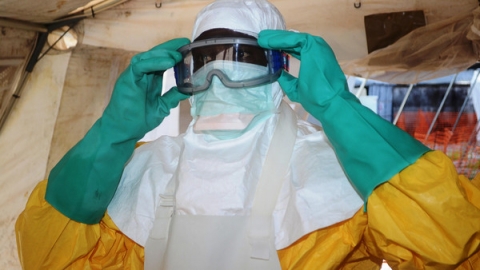 Guinea and Zambia took steps on Saturday to halt the spread of the Ebola epidemic that has killed nearly 1,000 people in several West African states.
Guinea closed its borders with Sierra Leone and Liberia, with authorities saying the decision was taken primarily to prevent infected people crossing into the country where at least 367 people have died of Ebola since March and 18 others are being treated in isolation.
Zambia, meanwhile, has banned the entry of citizens from countries hit by the Ebola virus, the health ministry said. The Zambia ruling targets citizens of Liberia, Nigeria, Sierra Leone and Guinea.
Even delegates to conferences already organized in Zambia would be barred, Health Minister Joseph Kasonde said in a statement on the ministry's website.
Zambians returning from travel to Ebola-affected nations would be thoroughly screened and quarantined if they were seen to be at risk of carrying the virus, the statement said.
Infographic: Ebola epidemic. (Farwa Rizwan/ Al Arabiya News)
The West African Ebola outbreak is the worst the world has faced and the U.N. World Health Organization (WHO) said on Friday it represents an international health emergency that will likely continue spreading for months.
In Canada, a patient back from Nigeria who showed symptoms of fever and flu – possible signs of Ebola – was put in isolation in a Toronto-area hospital, Canadian health officials said late Friday.
The unidentified male patient was being treated at the William Osler Health System's Brampton Civic Hospital in a suburb of Toronto.
In addition to quarantining the patient, the hospital said it enacted other strict precautionary measures.
"To date, there are no confirmed cases of Ebola in Ontario and the risk to Ontarians remains very low," said Graham Pollett, the province's Interim Chief Medical Officer of Health.
Ebola is one of the deadliest diseases known to humanity. It has no proven cure and there is no vaccine to prevent infection. The most effective treatment involves alleviating symptoms that include fever, vomiting and diarrhea.
Sources : Al Arabiya Network  
 (Reuters and AFP)