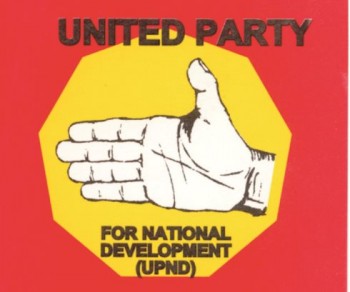 OPPOSITION United Party for National Development (UPND) members allegedly beat up a chief and his wife in Luampa on Friday as they clashed with members of the ruling Patriotic Front (PF) ahead of by-elections in the Western Province district.
The UPND cadres allegedly also forced Luampa MMD Member of Parliament Josephine Limata to flee in fear of being beaten.
Chief Mwanatete has said that the UPND cadres attacked him and his wife.
The traditional leader said the cadres were allegedly looking for Ms Limata but they never found her and so they turned their wrath on him and his wife.
The incident happened around 16:00 hours on Friday.
"Luckily, Ms Limata managed to escape. The gang, after failing to locate her, turned their anger on my wife and me, and started beating us. It was difficult to escape because they were so many," he said.
He said the cadres, who were chanting UPND slogans, warned that they would not tolerate people who seemed to be supporting the Patriotic Front and President Sata in Luampa district and the entire Western Province.
Chief Mwanatete said the UPND cadres were preparing for a visit of their president Hakainde Hichilema, who was expected to address a rally at Luampa Basic School.
Ms Limata said that following the incident, she is now living in fear.
"I am here in my village on vacation. I have been here for a while but on Friday, the cadres came and attacked my chief, his wife and five other people. I sought refuge before they could get to me," she said.
The clash between the UPND and the PF has resulted in property worth K30,000 being damaged.
The clash, which took place at a bridge linking Mangango to Luampa district, also left one suspected PF cadre injured.
Western Province Police Commissioner Lombe Kamukoshi confirmed the incident.
"We received an assault report from a man identified as Leonard Chisenga from Lusaka's Kuomboka Township, who sustained deep cuts on his head and swollen legs. Mr Chisenga is admitted at Luampa Mission Hospital and is in a stable condition," Ms Kamukoshi said.
She said three other people are believed to have been injured although they had not formally reported the incident to the police.
Ms Kamukoshi said the second report was received from a man identified as Martin Limata of Luampa district, whose two vehicles, a Toyota Harrier and Isuzu, were also damaged.
Machetes and sticks are believed to have been used during the clash.
But UPND vice-president for politics Canisius Banda has accused the PF of fuelling violence in Western Province ahead of the Mangango parliamentary by-election.
Dr Banda said his party does not condone any form of violence, accusing the PF of fuelling violence in Mangango and Batoka by intimidating the opposition.
"I have not received any report from Luampa but as for Mangango and Batoka, violence is being fuelled by PF officials," Dr Banda said.
He said it is unfortunate that some UPND members might have used force against one of the provincial officials who was allegedly using a government vehicle.
PF Mangango campaign manager Obvious Mwaliteta said the UPND is practising campaigns of intimidation, tribalism, regionalism and violence.
Mr Mwaliteta said PF has identified suspected UPND cadres causing violence in Luampa.
"We have identified some UPND cadres that were hired to cause havoc in Luampa. They came from Bauleni in Lusaka and some are from Livingstone. These cadres also attacked Ms Limata in Luampa," he said.
He said the PF will, however, try to stick to the code of conduct in its campaigns and will not be intimidated by any violence being perpetrated by the UPND.
Mr Mwaliteta, who described the campaigns in Mangango as peaceful, was however quick to add that he feared the violence from Luampa might spread to Mangango as well.
Zambia Daily Mail