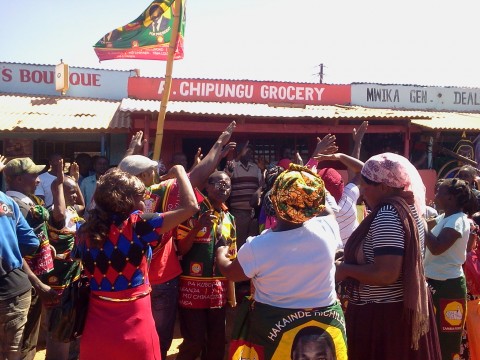 The opposition United party for National Development (UPND) has condemned in the strongest term the violence that is allegedly being orchestrated by the ruling Patriotic Front (PF) cadres ahead of the August 19th Mangango Parliamentary by-election.
The UPND is accusing the ruling PF of importing cadres from Lusaka whom it says are behind the violence.
UPND vice president for administration Richard Kapita says the gutting of the Mangango-Luampa Bridge by alleged PF cadres with the alleged intentions of making it difficult for his party's president Hakainde Hichilema to campaign must not only be viewed as political violence but criminal and barbaric.
Mr. Kapita has told Qfm news in statement that in view of this his party has established that ruling PF is only interested in winning elections at the cost of infrastructure development and the people of Mangango whom he says mainly depend on agriculture and timber trade using the gutted bridge to transport their produce.
He says his party also distances itself from the violence that left one alleged PF cadre of Lusaka's Kuomboka compound seriously wounded adding that the people of Mangango and Luampa were only provoked by the wanton destruction of the bridge and forced to take the law in their own hands.
The UPND vice president says as far as his party is concerned no UPND cadre participated in the beating of the same named PF cadre.
He says his party thus cautions the ruling party and other participating political parties to desist from importing cadres in the constituency.
But member of the ruling party's campaign team Gabriel Namulambe has refuted claims that his party has been ferrying cadres to Mangango from Lusaka.
Mr. Namulambe, who is also deputy Foreign Affairs Minister and Mpongwe PF Member of Parliament, says it is actually the UPND that is ferrying people from Lusaka and using the Mapatizya formula to cause violence in the area.
He has told Qfm news in a telephone interview that even the person who is said to have burnt the Mangango-Luampa Bridge is not a PF member.
( Sunday 10th August 2014 )
QFM NEWS