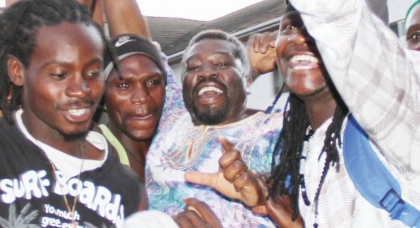 The opposition Movement for Multi Party Democracy (MMD) has observed that the United Party for National Development's hunger for power is deceiving it to start believing that it is in State House already.
The MMD National Secretary Muhabi Lungu has charged that his party is of the view that the UPND would make a potential worse governing party the country can ever have even worse than the ruling PF.
Speaking during a media briefing in Lusaka this morning, Mr. Lungu has also observed that statistical data of elections since 2001 clearly shows that the UPND is on a path of decline.
Mr. Lungu explains that the UPND in 2001 got 27 percent of the total votes, in 2006 they got 25 percent, in 2008 they got 20 percent and recently in 2011 they managed to get 18 percent of the total votes which shows that they are declining.
He adds that the path to State House entails an upward swing of not less than 20 percentage points after a decline of 9 points which would be unprecedented in Zambia's history.
Mr. Lungu says this upward swing, which he says is unbelievable swing, is put in context when one considers that the UPND failed to even get 5 percent of the vote in four out of the nine province in 2011 namely Copperbelt, Eastern, Luapula and Northern Provinces.
He wonders why the UPND has thus continued to using underhand methods to compromise the MMD members and enticing them to join them when the UPND Leader has time and again said the MMD is a dying party.
Meanwhile, confusion erupted at the MMD secretariat when former MMD Task Force Chairman Tomson Maimisa appeared with statements and attempted to start giving the press before some MMD officials pounced on him.
Mr. Maimisa appeared at the scene to demand that the MMD apologize to Home Affairs Deputy Minister Nickson Chilangwa for mocking him and using his disability as a campaign tool.
Mr. Maimisa states that if the MMD does not apologize for the remarks against Mr. Chilangwa and all the disabled people in the country within 24 hours, he will personally mobilize the disabled people and demonstrate at the MMD secretariat.
QFM NEWS