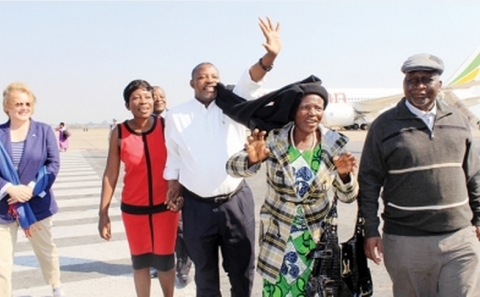 Felix Ngoma, a Zambian national who was abducted for 21 days in Sudan's volatile Darfur region, has returned home and described his ordeal as horrible.
Mr Ngoma returned home aboard an Ethiopian Airline flight which touched down at the Kenneth Kaunda International Airport at about 14:20 hours yesterday.
He was received at the airport by Foreign Affairs Permanent Secretary George Zulu, United Nations resident coordinator Janet Rogan, International Organisation for Migration (IOM) Chief of Mission Andrew Choga, senior government officials, his family and relatives.
Mr Ngoma was later taken to the Ministry of Foreign Affairs where he met the minister, Harry Kalaba, who handed him over to his family.
He described his abduction as horrible and thanked the government for the effective role it played in securing his release.
"I want to thank the Zambian and the Sudanese governments for securing my release. It was not easy but God helped me because for the first four days, I had no food or water to drink," Mr Ngoma said.
"After four days, some good Samaritans started coming to give me water and food. Working in Sudan is an occupational hazard but I want to thank all Zambians that prayed for me during that trying moment," he said.
Mr Ngoma, however, said if given another time, he would go back and work in Sudan.
And Mr Kalaba has thanked the government of Sudan, IOM, UN agencies, the Zambian media and the Ngoma family for their support to the government in securing Mr Ngoma's release.
He said Zambia stands for nothing but peace and that President Sata's government will do everything in its power to protect Zambian citizens so that they can enjoy their freedom.
Mr Ngoma, who is a humanitarian worker with IOM, was abducted by suspected Janjaweed militia as he was returning home from work.