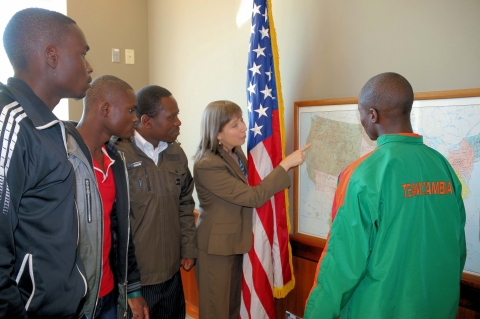 ZAMBIA'S budding sprinter Sydney Siame has qualified to the semi-finals of the 100 metres race at the ongoing IAAF World Junior Athletics Championships in Eugene, United States of America (USA).
Siame, who will be racing for a spot in the final today, posted a time of 10.56 seconds in his heat and managed to make the semi-finals with his time at the world games just below his personal best of 10.51 seconds.
The 16-year-old Chingola athlete's semi-finals spot justified his ranking as number 15 in the world.
Siame is one of the four local track and field athletes, who are representing Zambia at the World Junior Championships.
Other Zambians in Eugene are Brian Kasinda, Shaddye Melu and Joseph Sinkala, a long jump specialist.
These three athletes were expected to in action last time                                  and later today.
Kasinda boasts a time of 21:02 seconds in 200m race, which makes him the eighth best athlete in the world while USA-based Melu is competing in the 400m race and his personal best time is 47.25seconds.
Sinkala is brandishing a leap of 7.71m, which puts him 13th in the world.
Meanwhile, senior athletes, who will be competing at the Glasgow Commonwealth Games, have continued to live up to their potential best with Emmanuel Mwewa being the shining star as the five prepare to leave for Scotland tomorrow.
Mwewa, who has shown massive improvements in his 400m race, was again proving his selection by winning his category in the final preparatory race in Freistett, Germany
Mwewa did not just finish first in the race but clocked 46.88 seconds which was his second best time and a 100th of a second shy to his Personal Best time, which he set in La-Chaux-de-Fonds, France.
Zambia Amateur Athletics Association (ZAAA) communications manager, Beryl Opiyo said another runner, Yvonne Nalishuwa confirmed her actual level in finishing the 100m race tops on 12.31seconds and so did Rhoda Njobvu who ran a solid 57.00seconds in 400m, which was however, not close to her previous race times.
"Overall the preparations during the camping period went well and the positive trend has been confirmed. All the athletes are now mentally and physically prepared for the Commonwealth Games and Senior African Championships to be held in Morocco," Opiyo said.
The nation's biggest setback was when medal hopeful, Gerald Phiri got injured and eventually ruled out of the 'Club' Games.
Zambian athletes have been shaping up in Germany for almost three weeks.
Times of Zambia