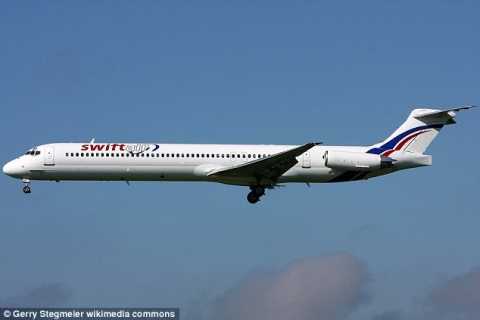 Fateful path: Contact was lost with flight AH 5017 while it was still in Malian air space approaching the border with Algeria after taking off from Ouagadougou, the capital of the west African nation of Burkina Faso
An Air Algerie flight that went missing en route from Burkina Faso to Algiers with 116 people on board has crashed, an Algerian aviation official said today.

Air navigation services lost track of the Swiftair MD-83 around 50 minutes into the flight after the crew reportedly asked to change course due to a storm.
The plane, which is operated by Air Algerie, was last picked up on radar at 1.55am GMT and should have landed in the Algerian capital around three hours later.
'I can confirm that it has crashed,' the official said, declining to give details of where the plane was or what caused the accident.
The list of passengers includes 51 French, 27 Burkina Faso nationals, eight Lebanese, six Algerians, five Canadians, four Germans, two Luxemburg nationals, one Swiss, one Belgium, one Egyptian, one Ukrainian, one Nigerian, one Cameroonian and one Malian, Burkina Faso Transport Minister Jean Bertin Ouedraogo said. The six crew members are Spanish, according to the Spanish pilots' union. 


It comes after a treacherous week for the aviation industry in which 298 people were killed when Malaysia Airlines MH17 plane was shot down over Ukraine and 48 people died in a crash in Taiwan.
Airlines have also cancelled flights into Tel Aviv due to the conflict in Gaza.
Read more: http://www.dailymail.co.uk/news/article-2704018/BREAKING-NEWS-Algerian-airline-loses-contact-plane-carrying-110-people-disappears-radar-flying-Burkina-Faso-Algiers.html#ixzz38ONrVKsA
Follow us: @MailOnline on Twitter | DailyMail on Facebook