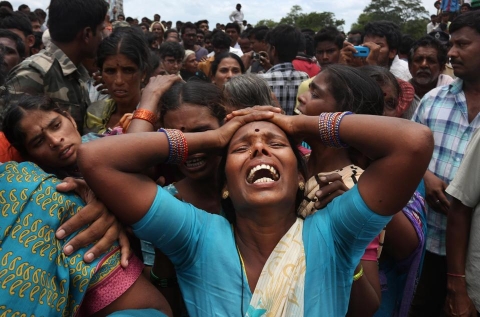 NEW DELHI (AP) — Twelve children were killed Thursday when a train crashed into their school bus at an unmanned railroad crossing in southern India, police said.
The bus driver also died while another 16 children ages 7 to 14 were injured and hospitalized, said police officer Ravi Nallamala.
They were on their way to the school Thursday morning when the crash happened in Medak district in Telengana state, Nallamala said. The area is nearly 1,500 kilometers (930 miles) south of New Delhi.
He said all the occupants were pulled out fom the mangled bus.
Accidents are common on India's railroad network, one of the world's largest with 23 million people riding daily on about 11,000 passenger trains. Most accidents are blamed on poor maintenance and human error.
There are hundreds of unmanned crossings across the country, especially in remote areas. Poor finances limit efforts by rail authorities to staff the dangerous crossings around the clock.