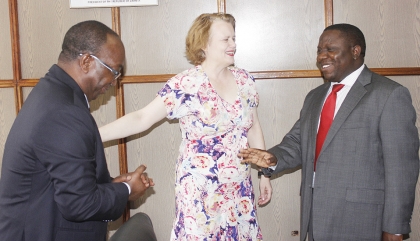 Health minister Joseph kasonde has paid glowing tribute to outgoing  World Health Organization (WHO) country representative Dr Olusegun  Babaniyi.
Speaking during a farewell prayer session held at St Ignatius Catholic Church in Lusaka today, Dr Kasonde said government was grateful for the role Dr Babaniyi played during his 7 years of service to the country in strengthening health systems in Zambia.
The health minister noted that Dr Babaniyi cultivated a healthy working relationship with the government and the community.
Dr Kasonde told the handful of congregants who attended the prayer session that Dr Babaniyi's services would be greatly missed.
He said Dr Babniyi introduce a new phenomena which resulted in WHO being part of the government in decision making processes.
Dr Kasonde recalled that in the past the WHO dictated to the State what to do when addressing public health matters.
Meanwhile, a tearful Dr Babaniyi thanked government and the members of staff for the support they rendered to him while serving as WHO country representative.
The emotional Dr Babaniyi expressed surprise that his contribution was noticed by the government and the church.
He has since implored WHO members of staff to continue striving for excellence in their discharge of duties.
Dr Babaniyi has retired from the UN agency and scheduled to go back to his native country Nigeria after working in Zambia for seven years under the World Health Organization.