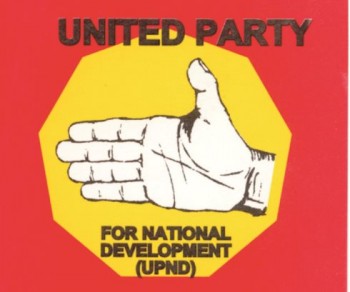 FORMER Foreign Affairs Minister Kelly Walubita has joined opposition United Party for National Development (UPND).
UPND leader Hakainde Hichilema said his party had a lot to learn from Mr Walubita and that the party would utilise Mr Walubita's experience and wisdom to help the UPND grow politically.
"As UPND, we are glad to receive you and we will utilise your experiences and wisdom wisely. UPND is a party for everyone and whoever wants to join us is welcome," Mr Hichilema said.
He was speaking at a media briefing in Lusaka yesterday where he received defectors from opposition political parties including Mr Walubita and former Alliance for Better Zambia (ABZ) vice-president Patricia Mwashingwele.
Mr Walubita, who served as Zambia's High Commissioner to India, said once fully accepted in the party, he would endeavour to add value to the UPND as he was a pioneer of multi-party democracy.
Ms Mwashingwele said she was committed to unity of purpose and would ensure that she contributed to economic growth in an event the UPND got into power.
She said the country was united and peaceful because of the one Zambia one nation slogan and challenged Mr Hichilema and the UPND leadership to maintain it.
Meanwhile, UPND spokesman Edwin Lifwekelo has warned MMD diehard youth coordinator Bowman Lusambo that the party would not condone his continued unwarranted attacks on Mr Hichilema.
This is in response to recent remarks Mr Lusambo had made in some sections of the media alleging that the UPND leader's desire to get to State House was driven by selfish motives.
Mr Lifwekelo questioned the intellectual capacity of Mr Lusambo describing the remarks as primitive thinking anchored on ignorance.
Times of Zambia